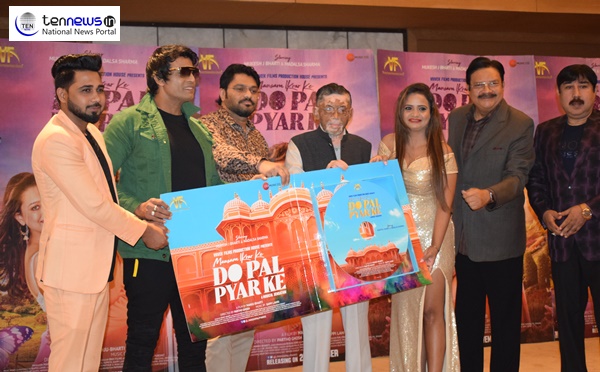 Union Minister Babul Supriyo attend a Song Launch of Upcoming Movie 'Mausam Ikrar Ke Do Pal Pyar Ke' in Delhi!
New Delhi: On Tuesday, Union Minister and Bollywood Singer Babul Supriyo launched a song of an upcoming film "Mausam Ikrar ke do pal pyar ke". With The lead star cast, Film producer Manju Bharti also attended the event.
Under the banner of Vivek Film productions  Mausam Ikrar Ke Do Pal Pyar Ke is Produced by Manju Bharti, and Music is given by versatile music Director Bappi Lahiri , Directed By Legendary Partho Ghosh and Lyricist by Deepak Sneh , starring Mukesh bharti with Madalsa Sharma , Avinash Wadhavan , Neelu Kohli , Dipoo Srivastava, choreographed by Ganesh Acharya ,Singer Armaan Malik ,Bappi Lahiri , Palak Muchhal , Shaan , Brijesh Sandaliya, Amruta Fadnavis , Babul Supriyo have given very melodious songs. The film is set to hit the theatre on 2nd November, 2018.   
The Story Revolves around two young people Amar and Anjali who met each other accidently as Amar got his hand factured minorly while his way to college and Anjali helps him out by taking him to her home. After conversation they got to know they are in same college. Both started going to the college together and become friends soon. As the time passes, Anjali falls in love with him but he doesn't.  In the meanwhile, Anjali's father Raj's friend Dhirendra an ACP of the city tries to convince him for Anjali's wedding with his son. When Amar's hand got fixed he returned to his home but Anjali started missing him and decided to propose him. But Amar rejects Anjali's Proposal and breaks her heart.
On the occasion, Union Minister While Interacting with Media said,
"The film Mausam Ikar ke Do Pal Pyar ke has very soulful songs and I am really excited with the songs collection. It contains the entire genre and hope audience will hum the songs for ages."
Film producer Manju Bharti said,
"The film has been shot at very beautiful places according to the story. Amar and Anjali's love story has many twists and turns i the story which will glue the audience to the story and will be definitely liked by them."