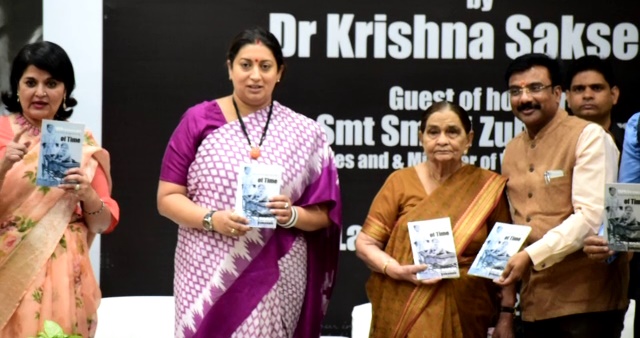 Union Minister Smriti Irani Launches 'Whispers of Time', a fiction authored by Dr. Krishna Saksena
Prerit Chauhan (Photo-Video) Lokesh Goswami Tennews New Delhi :
New Delhi: Textiles & Minister of Women and Child Development, Smriti Irani on Sunday launched 'Whispers of Time', a book authored by Dr Krishna Saksena's, at India International Centre in New Delhi.
There is a saying that It's never too old to set another goal or to dream a new dream, proves, Dr. Krishna Saksena, the 91 years old author of a fiction, 'Whispers of Time'. The book, published by Prabhat Prakashan was officially launched yesterday.
Smriti Irani was accompanied by author and columnist Kishwar Desai at the event. Desai is the Chair of the Arts and Cultural Heritage Trust that has recently set up the world's first Partition Museum at the town Hall in Amritsar.
Dr. Krishna Saksena's ninth book titled the Whispers of Time is a humble effort on her part to condense nine decades of her life experiences, realizations and observations into a book of fiction based on facts. The characters in the book are real and so are the events. They are so real as you are or as I am. The book is written in a simple style which is writer's great asset. To make it interesting it is a form of the story, so the end is imaginary though it shows a point of view as to where we are moving.
Author had been witnessing the three generations in her life and found a great difference between the three. If the first was too strict and severe in clinging hard to traditions, the second had softened down to new values of love and helpfulness. In a way it was a beautiful world of togetherness. Third generation, we are proud of our growth in technology and the new discoveries that are made by the present generation. Women are moving fast towards walking out with men equally; steps should be taken for their empowerment.
Speaking on the occasion to mark the release of a book, Textiles & Minister of Women and Child Development said,
"We are writing because we are writing. I say 'we' because most women will relate to what I am going to say. Women are judged their entire life on the basis of their relationships, on the basis of what they give. It is very rare for a woman to say I want to live my life for myself apart from my relationships."
"Battles are not fought at the frontiers all the time. We fight our battles in our daily circumstances as well," she said, adding that woman give a lot of importance to relationships in their lives.
Speaking about the book, Dr. Krishna Saksena, said, "The book aspires to capture and present the change in the value system from one generation to next. Our society has morphed from large joint families to small nuclear ones, women are stepping out more and more to work shoulder to shoulder with men, even become the leaders. The middle class has grown and wealth while the disparity of wealth has increased. Our country of 40 crores at the time of independence is now bursting at the seams with three times as many people. All this has put immense pressure on our value systems. Everyone who has read the book has reacted by saying, I can completely relate to it."
She further said, "The book is to be read with an open mind and ear to capture the subtle yet potent wisdom that time in its eternal march whispers into our ears. As any avid reader knows, books are everything. The right book can guide, educate and inspire; a book can help you nurse a broken heart or awaken a sense of adventure, leading you to discover people and places you never dreamed you would."