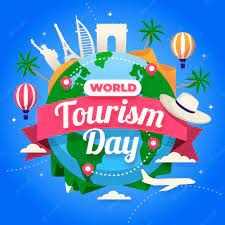 Uttarakhand has a vast potential which can be developed to attract tourists
Brig K.G.Behl (Retd) Former, Dy. Surveyor General, Survey of India
Tourism is an important, even vital, source of income for many countries. The activity is essential to the life of nations because of its direct effects on the social, cultural, educational, and economic sectors of  national societies and on their international relations.
On September 27th, 2022, the 42nd edition of World Tourism Day will be celebrated around the world. The official celebration will be held in Bali, Indonesia, with the theme of  'Rethinking Tourism.' 
Tourism brings in large amounts of income into a local economy in the form of payment for goods and services needed by tourists. It also creates opportunities for employment in the service sector of the economy  associated with tourism.
The services which benefit from tourism include transportation, such as taxi service,  airlines, hospitality services,  such as accommodations, including hotels and resorts ; and entertainment venues, such as amusement parks, shopping malls, music venues, and theatres. This is in addition to goods bought by tourists, including souvenirs, clothing and other attractive supplies.
Tourism is a plan to travel for  recreation, leisure, religious, family or business purposes, usually of a limited duration. Tourism is commonly associated with trans-national travel, but may also refer to travel to another location within the same country. The  World Tourism Organization defines tourists as people "traveling to and staying in places outside their usual environment for not more than one consecutive year for leisure, business and other purposes". During Covind-19 onwards the tourism sector was the worst affected and is now slowly reviving and is likely to shoot up soon.
Our Hon'ble Prime Minister has called this decade as Uttarakhand decade when a lot of activities of tourism and other wide roads for Chaardham and other works are being undertaken. Govt. has already been asked to set up meditation hubs near Kedarnath which will prove to be an asset for tourism.
Lately tourism has become a popular global leisure activity. Tourism can be domestic or international, and international tourism has both incoming and outgoing implications on a country's balance of payments. Today, tourism is a major source of income for many countries, and affects the economy of both the source and host countries.
India is a popular resort for tourists since it has a variety of  natural, cultural, historical  and religious centres which tourists like to visit. But India has not been able to develop infrastructure needed for such tourism.