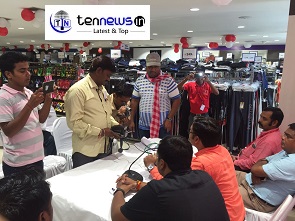 V-Mart "the King of Retail in tier-II & tier-III Cities", Opens its 4th store in "Varanasi"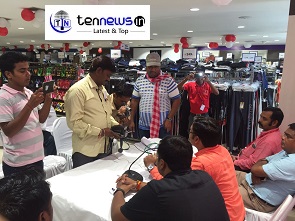 in tier-II & tier-III Cities",
Opens its 4th store in "Varanasi"
Expands its footprint in the state with 56th store in U.P
 Ø  One of the fastest growing value retail chain
Ø  V-Mart now has 132 stores spread across India, in 114 cities covering more than 1110161 sq ft retail space across India
Ø  V-Mart is celebrating the launch of its new store with its bumper draw, weekly draw and daily lucky draws gift items
 Varanasi : 17 September 2016: V-Mart "the king of organized retail in tier-II & III cities" today opened its 4th store in Varanasi  and 56th store in Uttar Pradesh. With the launch of this new store, now V-Mart has 132 stores overall in 114 cities across 14 states. V-Mart introduces Varanasi to yet another fully air-conditioned store spread across 8682 sq.ft. with unmatched international shopping experience. For the people of U.P, fashion now has a new address-at Opposite Tridev Mandir,Sankat Mochan Road,Durgakund,Varanasi,221005.
 "We are thrilled to announce launch of our 4th store in Varanasi, U.P says" Chairman & Managing, Director, V-Mart Retail Ltd, Mr. Lalit Agarwal. After getting a very good response from our existing store in Varansi, we are proud to launch our 4th state-of-the-art, fully air conditioned fashion store in Durgakund, Varanasi. We look forward to staying true to our promise of offering the latest and the widest fashion range at unmatched prices."
Mr. Snehal Shah, Sr. Vice-President, Marketing & Operations, V-Mart Retail Ltd. Said, "Mostly we operate in Tier-II and Tier-III cities in virgin areas where we can cater to young, aspirational class with their fashion & lifestyle needs by providing high-end fashion at a pocket friendly price."
Varanasi is a rapidly growing market with the overwhelming response given to our first store in Varanasi which we launched in 2010, we have been constantly getting requests from our customers to open another store to cater to the growing demand for our latest fashion offerings. With this new store we intend to go closer to the consumer and hope that this store also proves to be a milestone in our endeavor to take fashion to the nooks and corner of the country."
 Ø  At V-Mart, customer is the focal point of all our initiatives. Keeping this in mind, to celebrate the launch of the new store V-mart is offering its customer exciting offers on every purchase, like ,
Ø  Bumper Lucky Draw– Car, Bike, Led, Refrigerator.
Ø  Weekly Lucky Draw– Gold Coin, Dinner Set, Induction Plate.
Ø  Daily Lucky Draw– Wall Clock, Duffle Bag, Iron.
Ø  Free shopping of Rs. 500/- on purchase of Rs. 3000/-
 We are sure that people of the city will give a warm welcome to the new V-Mart store & are confident that the opening of this new store in the city will give its citizens a chance to unique experience by offering a vast range of fashion products. High standards in quality and design will ensure that over time the store shall emerge as the destination of choice for bargain hunters and the fashionable alike.
Agra is a growing city with high awareness about fashion and latest trends. Consumers in the city are looking for brands which can provide the elusive combination of best quality fashion at best prices. It is this very gap that V-Mart wishes to fill and meet the consumers demand.
About V-Mart Retail Ltd.:
 V-Mart is dedicated to provide "Price less fashion" to the consumers in Tier II and III cities where penetration of organized retail is limited. The Company has stood true to its promise ever since it opened its first store in Ahmedabad in 2003. V-Mart Retail Ltd promoted by retail expert Mr. Lalit Agarwal, who currently operates 133 stores in 114 cities in Eastern, Northern & Western regions covering more than 1110161 sq ft retail space. The retail format is offering more than 80 thousand products to choose from in the small towns and cities across the country. It is amongst the fastest growing retail house, with a chain of medium sized hypermarket stores. The company intends to further strengthen its chain of retail outlets across in the virgin areas.