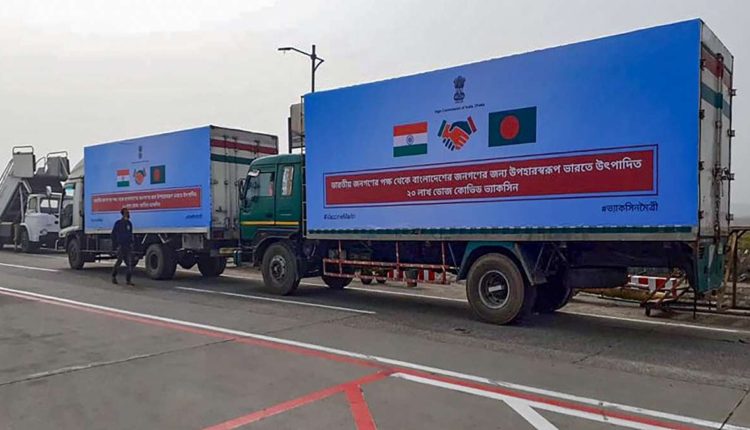 "Vaccine Maitri": Exporting India's Sanjeevani to the Neighbouring Countries
Dr SK Varshney, Department of Science and Technology, New Delhi and Dr NK Prasanna, CSIR-National Institute of Science Communication and Information Resources, New Delhi
India has proven once again its belief in the slogan "Vasudhaiva Kutumbakam", the world is one family. India is in limelight on account of its initiative "Vaccine Maitri" in which they are gifting and exporting COVID-19 vaccines to 22 countries including neighbours. This initiative will prove to be a major milestone to strengthen soft power and establish international relations with the leading countries as well as create good will among the so-called developed countries. Though India is a developing country it is widely known as the world's vaccine capital. India provides to the global community approximately 60% of vaccines for several diseases such as DPT, measles, and BCG to fulfil global requirements.
Vaccine diplomacy is nowadays synonymous with humanitarian diplomacy as these initiatives are serving mankind and help them to survive through this pandemic. Realizing that, India is expanding its hand of friendly gesture to its immediate neighbours including Bangladesh, Maldives, Bhutan, Nepal, Myanmar, and others. This move will help India to increase its credibility as well as an image of grounded vaccine manufacturer.  
At the peak of this pandemic, when it was realized that vaccine is probably the only safeguard, many countries initiated programs encoring their researchers and industry to work out Covid Vaccine. Like many other countries, Indian researchers and industry worked hard to develop a vaccine for Covid-19. India launched its covid vaccination drive on 16th January 2021, and by now close to 5 million healthcare and enforcement workers have been vaccinated. India is one of the world's biggest drug-makers and an increasing number of countries approached it for procuring the vaccines Covaxin by Bharat Biotech and developed in collaboration with ICMR and the National Institute of Virology, and Covishield made by the University of Oxford with AstraZeneca and manufactured by the Pune based Serum Institute of India. Three more candidate vaccines are under last phases of clinical trials. Pfizer, Moderna and Sputnik have also sought permissions to carry out the clinical trials.
At this time, the priority is to vaccinate around 10 percent of people to acquire herd immunity. India wants to vaccinate 300million over the next six months. The excess doses can be donated to neighbouring countries. Also, with rising mutations, it is important to get newer generations of vaccines. India, anyway, can manufacture more and more vaccines with required strain modifications. Besides this, the Zydus vaccine is also on the verge of completing its trial, while Pfizer and Moderna vaccines may also be launched here soon. The world can look to India to lend a helping hand in this time of crisis.
In international relations, gratitude is usually a highly overrated commodity. If we look back in history we found that in the 1950s, the Soviets undertook the largest transfers of capital equipment by providing China the wherewithal to set up industries, machinery, aircraft, cars, trucks, precision instruments, etc. But by the mid-1960s, the Chinese viewed them as enemies. In 1960, the US provided India with massive aid to modernize its education, biotechnology, food aid, and scientific & technical capacity for the Green Revolution. But by 1971, India and the US almost came to blows. By that measure, the vaccine thrust is relatively modest some five million free doses to Bhutan, Maldives, Nepal, Bangladesh, Myanmar, and Seychelles. There is another category of export to Saudi Arabia, South Africa, Brazil, and Bolivia, which is strictly commercial.
All the consignments carrying vaccines have a label showing our panoramic traditions that are written in Sanskrit "Verse Sarve Santu Nirmaya" (may all will be free from disease). This major step is showing India's capability of being international in the environment of self-sufficiency or a nationalistic approach.