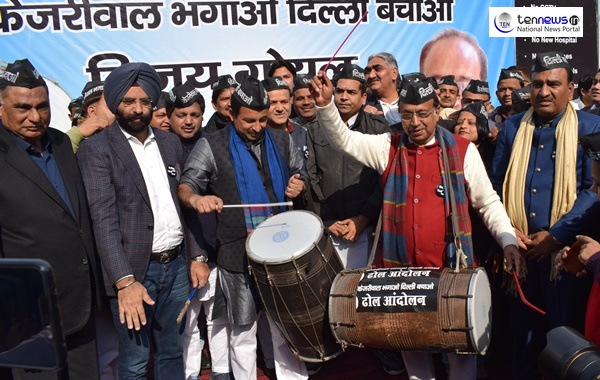 *New Delhi: (27/01/2019)On January 27, Union Minister, Vijay Goel launched a "Dhol Andolan" against Arvind Kejriwal led Delhi government, which was flagged-off by BJP Parliamentarian and Delhi BJP State President Manoj Tiwari from his residence in New Delhi.
The campaign launch was joined by former Delhi Water Resource Minister, Kapil Mishra, BJP MLA Manjinder Singh Sirsa and BJP MLA Ramvir Singh Bidhuri.
Thousands of BJP supporters wearing black caps with slogan "Kejriwal hatao, Dilli Bachao" and similar batches attended the launch event and pledged to throw out the AAP government from Delhi.
All Delhi BJP District presidents were also called out on the stage and were presented with the black caps by Manoj Tiwari and Vijay Goel.
Slamming Arvind Kejriwal and AAP government, Union Minister Vijay Goel said, "I used to meet BJP supporters and workers at my residence from all the seven Lok Sabha constituencies of Delhi, this is just to establish a message in the minds of the supporters that our minister cares for us and I have seen a very good response of it. When Sheila Dixit was the CM of Delhi, that time Anna movement was evolved and millions of people raised their voice against corruption under Dr Manmohan Singh Government that time a man was came into light and that man was Arvind Kejriwal. Later, Kejriwal formed a political party without Anna Hazare. In 2014, Delhitees voted for Arvind Kejriwal and the AAP formed the government but in his tenure, the AAP leader has not fulfilled its promises. The Delhi air is deteriorating everyday, Yamuna is full of toxicants, drinking water is not safe and mohalla clinics are running without doctors."
"Instead of decreasing electricity bills, the bills have touched the sky and the medical facilities are on the edge of failure", the Union Minister added.
BJP MP Manoj Tiwari also lambasted AAP and said, "AAP is calling delhi residents and telling them that their votes was eliminated by BJP from the voters list, we will fight for the addition of your vote to voters list if you vote for AAP".
The Union Minister confirmed that they have prepared the roadmap to push "Dhol Andolan" in all the seven Lok Sabha Constituencies in Delhi.