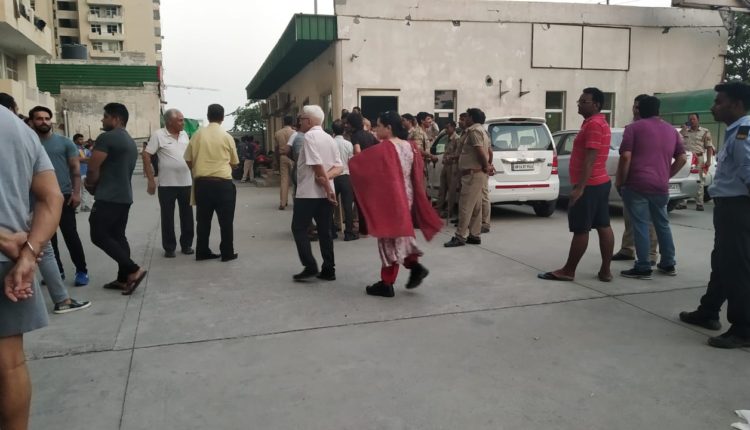 Violence erupted at Residential Society AVJ heights over taking charge of welfare issues of residents!
Saurabh Kumar
Greater Noida: On June 23rd a fight erupted in AVJ Height (a residential society in sector ZETA 1) between two groups for taking charge of maintenance and welfare issues of the society. The incident happened around 6 in the evening when both the group assaulted each other while the police remained salient watcher as alleged by the residents.
As per the information since after the gangster act was invoked on the builder Vinay Jain, welfare issues of the AVJ residents are looked after by society residents itself by forming society association. So earlier a group called AVJ Apartment Association headed by D K Chowdhary and Ashish Prashar is looking after society. For now, the society is look after by Team volunteers headed by Mahesh Bhati.
So for once again, AVJ Apartment Association tried to take charge in their hand after which violence erupted in the society.
One of the resident of society Niti Sharma told that "As I sensed that situation is getting tense I immediately called IG Meerut and detailed about the incident. After which he ordered Circle officer Greater Noida to take cognizance of the matter. Thereafter a team police personnel's and SHO's reached the society. But even in their presence violence erupted and people assaulted each other while police remained silent"
"We resident of the society demands a permanent solution to this issue otherwise in future they will once again create nuisance." She added.
Circle officer Shwetabh Pandey responding over the whole incident said "earlier both the group agreed over mutual settlement but today once they reached police station asking to register FIR. Yesterday also they created nuisance and assaulted each other. This seems that they don't have any coordination among them and just disturbing law and order. So we will be registering an FIR against them.