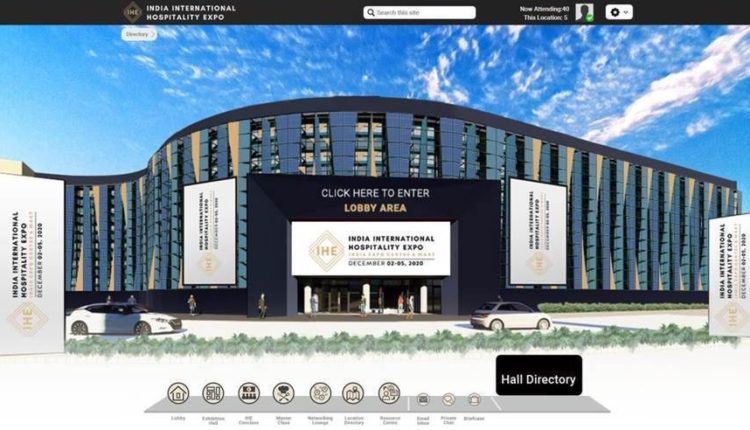 Virtual India International Hospitality Expo (IHE2020) to open on 2nd December with more than 200 exhibitors
28th November, Greater Noida: The stage is set for the 2020 edition of the India International Hospitality Expo (IHE2020), India's biggest food industry and hospitality sector B2B show. It will open on December 2, 2020, as a 100 percent online experience that will both facilitate maximum buyer-seller interaction and respect the physical distancing norms necessitated by the Covid-19 pandemic.
"The pandemic has challenged us to create new opportunities out of adversity. So, instead of deferring IHE2020, we opted to make it a click-and-navigate experience accessible from anywhere in the world," Dr. Rakesh Kumar, Chairman, India Expo Mart Limited (IEML), said as he welcomed exhibitors and attendees to log on to https://www.ihexpo.com/ and participate in the show, which will conclude on December 5, 2020.
More than 200 exhibitors have signed up for IHE2020 and so have 4,000 delegates, whose number is growing daily. The delegates are not only from all over India, but also from different countries around the world. The exhibitors include both manufacturers and service providers from the food production, kitchen and bar equipment, laundry, furniture and furnishings, tableware and wellness industries and various allied hospitality-related business verticals.
Since its inception, IHE has been getting the support of a number of professional organizations, who have rallied behind the show this year as well. They include the Indian Federation of Culinary Associations, Indian Culinary Forum, Purchasing Professionals Forum- India and Professional Housekeeper Association, as well as the national associations of suppliers and vendors of hospitality products and services – HOTREMAI and ARCHII.
Support has come also from different parts of the globe. Peru, which has emerged as one of the world's leading fine dining destinations, has come on board as the country partner. Olives from Spain is another major global player to sign up with IHE2020. Exhibitors from Belgium and Germany will also showcase their products.
Explaining how the virtual showcase will work, Dr. Kumar said anyone anywhere in the world interested in accessing the show would have to login and click on the appropriate button to go to the exhibition zone, or to the Indian Culinary Forum's cookery masterclasses and mixology sessions, or attend the virtual food and hospitality conclave, or even watch the IHE2020 Excellence Awards, where we will honour the best and the brightest of the hospitality industry.
Supported by a user-friendly navigation system, visitors to the virtual IHE2020 can access the product catalogues of exhibitors, watch their corporate films, exchange virtual calling cards and even conduct follow-up conversations on WhatsApp – all without stepping out of their workplaces, or flying out of their cities.
Highlighting the knowledge quotient of IHE2020, Kumar said: "In view of the difficult times we are living in, IHE2020 has been designed in a way that our delegates will not only get to update their information on new products and services, but also be able to equip themselves with the knowledge they require to navigate the choppy waters the hospitality sector finds itself in. We are confident we can all join hands together and work towards the revival of the hospitality sector."
With industry leaders such as K.B. Kachru, Priya Paul, Rajiv Kaul, Dilip Puri, Rajeev Menon, Sonica Malhotra Kandhari, Mandeep Lamba and Anil Chadha, along with distinguished chefs Manjit Gill, Davinder Kumar, Vineet Bhatia, Manish Mehrotra, Manisha Bhasin and Sharad Dewan, all set to speak at the IHE2020 Conclave, the much-anticipated event promises to be as much of a celebration of knowledge as an opportunity to network with people you know, make new friends, and discover new products – virtually.