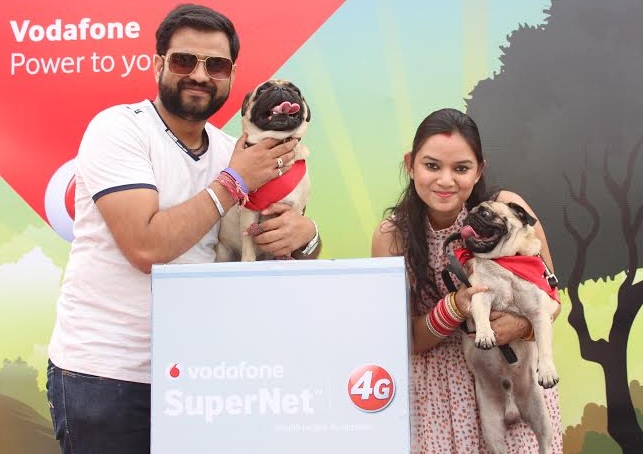 Vodafone Celebrates SuperNet 4G with Pug Parade.
Vodafone Pug is back to launch the Vodafone SuperNet 4G campaign. Acknowledging the overwhelming response of the fans all over the city to its recent campaign, Vodafone India, one of the leading telecom operators in the country, in association with Petfed organised a Pug- Parade inviting all the Pug friends across Delhi to a treat at DLF Place Saket. The activities included a host of exciting fun engagements like Fashion show, merchandise like customised T-shirts, Leashes, Collars, Bandanas for all our pug friends, Exciting Photo booths, free pet Grooming session, Free Vet check-up, Games, etc.
This unique 'Pug Parade' got an awe-inspiring response from the Pug owners and fans from Delhi NCR. Their enthusiasm reflected in the heavy footfall and a long bee-line for participation for the Pug Parade. The pug fashion show was followed by Mr. & Ms. Cheeka title adding to the fun experience.
Speaking on the initiative, Mr Apoorva Mehrotra –Business Head – Vodafone Delhi Circle mentioned "We are very excited about the comeback of the 'Vodafone Pug' to launch our SuperNet 4G services. Research has shown that the endearing Vodafone pug has had one of the most impactful and long standing connects with the Vodafone brand symbolic with our network. Network plays a crucial role in enhancing customer experience and our continuing endeavour is to provide superior voice and data services and we have made significant investments to expand, upgrade and modernise our network across the country."
The Vodafone Pug wooed the audiences once again when the Vodafone SuperNet commercials hit the TV screens with three announcement spots that has the old favourites pug and the little boy, promoting the recently launched Vodafone 4G services during the on-going T20 Cricket world cup two weeks back. The social media space has been buzzing with discussions, cute pictures and anecdotes of pug fans from all over the country mentioning their love for him and his antics. Vodafone pug, since its first appearance back in 2003, has been loved by all, a Brand agnostic love that went beyond the advertisements.
Vodafone 4G has already been launched in five circles including Delhi, Mumbai, Kolkata, Kerala and Karnataka. Vodafone customers across these cities can take benefits of lightning fast SuperNet high speed internet downloading as well as browsing. Vodafone SuperNet not only boosts your upload and download speeds but also minimizes your buffering time even while streaming HD videos.
Delhi and NCR is a significant growth market for Vodafone India and growing significantly. Delhi and NCR is a focus and significant growth market for Vodafone India. To cater to the growing volumes of customer usage increasing need for speed, the company invested heavily in FY 16 to expand, modernize and building a more technology and energy efficient network. In Delhi and NCR, Vodafone has a large retail footprint with 273 exclusive Vodafone stores (52 large retail format and 221 Mini Stores) spread across prominent localities in the city, making it convenient for customers to access Vodafone's products and services within their neighbourhood.