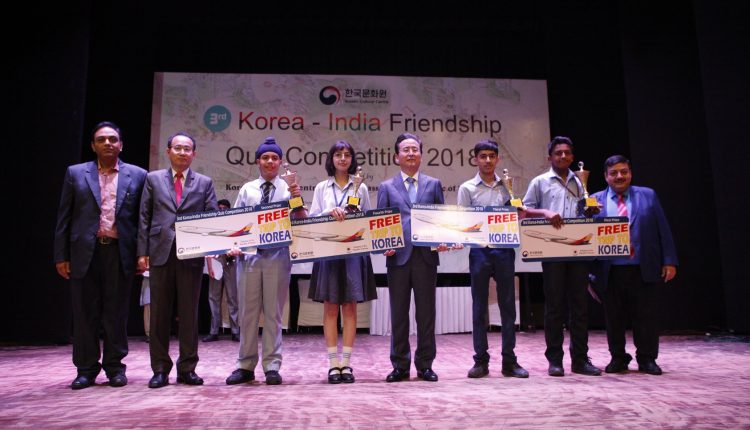 Winners of Third Korea – India Friendship Quiz Competition to Fly South Korea  
New Delhi: 20,384 students from schools of Delhi NCR participated in 3rd Korea-India Friendship Quiz Competition 2018 held at NCUI Auditorium, New Delhi. This initiative was taken by Korean Cultural Centre India which aimed at spreading knowledge and interest in Republic of Korea, from history to its cuisine. 24 selected contestants among 600 students in the second round got selected to compete at the final, only 8 of which made their way into the grand finale. The top 4 winners are going to a free trip to Korea for 6 days and 5 nights.
His Excellency Shin Bongkil, the Ambassador of the Republic of Korea, encouraged all participants as describing them as "tomorrow's leaders to build a prosperous India" and "the bridge of friendship between Korea and India."
Kim Kum-pyoung, Director of Korean Cultural Centre India,said "This contest is an important opportunity to introduce Korea and its culture to the students, the future of India. I'm convinced that they will contribute and play a major role in the bilateral relationship with their understanding of Korea."
1st Winner A. Mohammed Farhaan from Shalom Hills International School, Gurgram said that he has read a lot about Korea, now he is getting a chance to experience and live his dreams.  Other 4 winners going for the trip are Harshbir Singh Ahuja – Venkateshwar International School, Hanshul Bahl – Birla Vidya Niketan, Gayatri Singh from RD Rajpal School.
The fifth and the sixth prize winners Shivay Vinaik from St. Marks Sr. Sec. Public School and Aadrika Goel from Salwan Public School received a cash prize of Ten Thousand rupees and Five Thousand Rupees respectively. Rest of the 18 prize winners won a cash prize which is the amount of Thirty-Six Thousand Rupees and trophies.
The number of participating students has increased from 16,140 Students in 2017 to 20, 384 from 60 schools this year. This is Delhi NCR's largest ever Quiz Competition for school students on international topic. The intense final rounds showed the fierce competition among the "Korean expert" contestants, as any wrong answer cannot be acceptable on the way to win.
KCCI's Taekwondo and traditional musical performancesamused the 637 students in the audience seats, along with multiple prizes including Samsung washing machine for a surprise audience quiz.