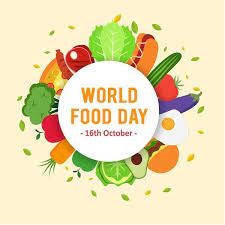 World Food Day
Brig. K.G. Behl (Retd.) President, AICC & Sanyukta Nagrik Sangathan,Uttarakhand
 The theme for 2022 is "Leave NO ONE behind".  World Food Day is observed annually on 16 October to highlight the millions of people worldwide who cannot afford a healthy diet and the need for regular access to nutritious food. World Food Day seeks to raise awareness about world hunger. This day encourages the public to support efforts to eradicate world hunger. Today World Food Day is observed in over 150 countries.    The primary focus of Food Day is to tackle global hunger and strive to eradicate hunger across the world.
            About 821 million people are chronically undernourished, more than 785 million recorded in 2015. Nearly 99% of undernourished people live in developing nations. About 60% of the hungry people in the world are women. About one in five births happens without a skilled birth attendant. Nearly 20 million infants are born each year with low birth weight, of which 96.5% are in developing countries. About 50% of all deaths in children are under 5 years due to under-nutrition.
Millions of people all over the world are unable to afford a healthy diet and are thus at a higher risk of malnutrition. Even when enough food is being produced to meet the world's demands the problem is availability of nutritional food. The scenario is further aggravated by multiple challenges like Covid-19 pandemic, conflicts, change inequality, rising prices, international tension, ethnic origin or status and rely only on other cultivated food missing out on other nutrition.
India who went through all such eventualities besides Covid-19 pandemic, not only survived and managed   the food situation but made their farmers strong to face the situation and ensure that they have enough money to purchase seeds to grow different products but sell their produce wherever  they wish to get better rates rather than following the old system where they had to sell their produce at lower rates than the cost of production. The Govt. is trying to eliminate the middleman to play a big hand in taking profits in purchase and sales of food grains. The Govt. has not only ensured that the farmers get all the facilities needed  and are trying to double the income of farmers in the years to come.  It is very heartening that the country had enough supplies of food that they could  meet the requirement of food  of the people at the peak of  Covid-19 when a large number of people were jobless and poor people required free food  for days together. The Govt. must  honour all those former who toiled day and night  to produce sufficient food for the country.
Moreover it is considered that the rates of the essential items needed for the poor should be fixed and in no case be allowed to increase as per the whims and fancies of the traders. In such items adulterations should not be allowed at any cost and those indulging may be promptly punished.
Chemicals we inhale, drink and in different forms every time eat
Pollution is there everywhere, though we pretend to be neat