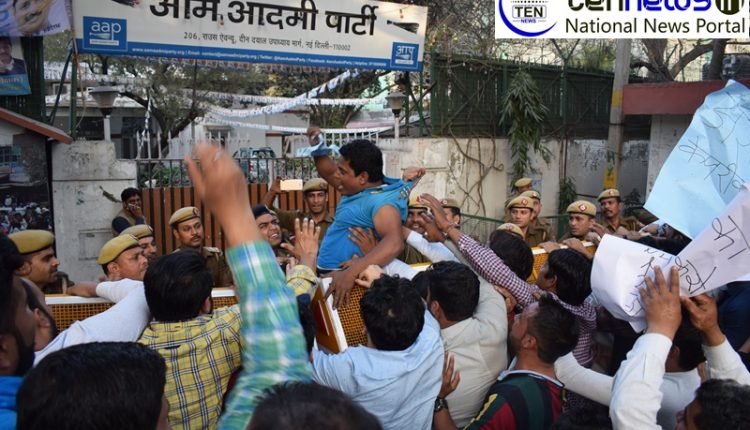 New Delhi: Jolted with the alleged assault of Delhi Chief Secretary Anshu Prakeash, members of Delhi Youth Congress held out a demonstration at Aam Aadmi Party (AAP) office on Wednesday.
Hundreds of youth Congress members gathered at AAP office and raised slogans against the AAP chief, Arvind Kerjiwal and demanded his resignation for allegedly assaulting Anshu Prakash. 

Protesters had been saying that if the Chief Secretary of Delhi can be assaulted then where does the common man stand?
While speaking to the Ten News, Delhi Youth Congress president, Sitaram Lamba said, "Assaulting Chief Secretary at CM house by AAP MLAs is a shameful incident. Chief Minister of Delhi, Arvind Kejriwal should resign immediately."
On February 19, Chief Secretary of the Delhi government Anshu Prakash was allegedly assaulted by the AAP MLA's at CM house. The issue triggered the controversy when he filed a complaint to the Delhi police on Tuesday.  
General Secretary of the Delhi Youth Congress Minakshi Meena said that the AAP government has failed in every front and also failed to deliver what he had promised during the election. "He should resign immediately", she demanded.