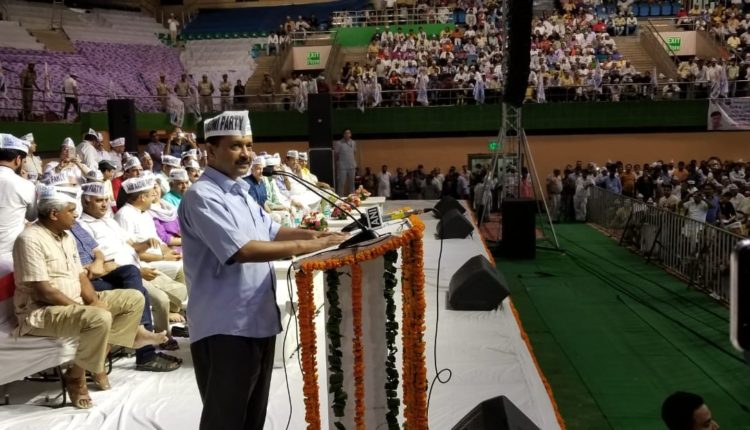 PRERIT CHAUHAN / SAURABH KUMAR
New Delhi: On Sunday, Aam Aadmi pushed for their demand that Delhi get
full statehood. Massive gathering of people wanting full statehood of Delhi was organised by AAP at Indira Gandhi Indoor Stadium, New Delhi. Arvind Kejriwal roared like never before arguing for full statehood of Delhi.
The meeting was attended by every locality's elected representative, AAP supporters, Ministers and MLAs and Arvind Kejriwal after his return from Bangalore.
AAP also launched a signature campaign titled "Delhi Mange Apna Haq" to gather support from 10 lakh people on the full statehood issue. The campaign will start on July 3 and end on July 25. The signatures collected will be handed over to the prime minister.
Addressing a gathering of thousands of AAP supporters, Ministers and MLAs,
Delhi cabinet Minister Gopal Rai said,
"In the present situation, the value of Delhi peoples' votes are half compared to other states. The Modi government has turned it into zero. Delhi Assembly has passed a resolution for full statehood. If full-statehood is given, our revenue will surge to Rs 40,000."
Deputy Chief Minister Manish Sisodia said, "Aam Aadmi Party will, in the next phase of "Dilli maange apna haq" will reach out to 10 lakh families in Delhi from July 3-25 for signatures in support of full statehood demand."
"Our party workers will go to every household in Delhi, along with a letter from Kejriwal, to sign a letter to demand full statehood for Delhi. We will then deliver these signed letters to Prime Minister Narendra Modi," added Sisodia.
Delhi Chief Minister Arvind Kejriwal blaming Delhi's Lt Governor Anil Baijal said, "Delhi was first under Mughals, then Britishers came & is now caged under LG rule. Today, Delhi has come together for full freedom. They say Delhi is Union Territory. In the name of UT, the Democratic rights of people have been ignored in Delhi since long.
India was freed in 1947 but Delhi is under LG rule after Britishers."
He further said, "IAS officers were forced to go on strike for 4 months, against the Elected Govt of Delhi in the name of UT?
I went to meet LG with Ministers & waited there for 9 days to meet him to end the strike. Mountbatten was last Viceroy of Delhi, Anil Baijal will be last LG of Delhi."