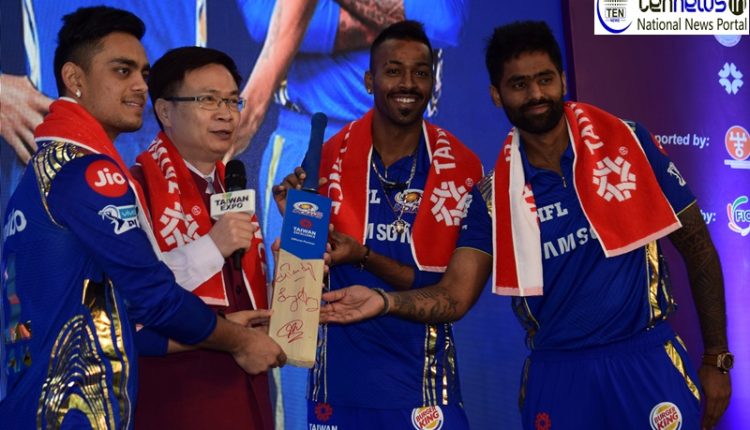 Mumbai Indians Star Players Experience Tech Extravaganza at Taiwan Expo 2018 in New Delhi!
Prerit Chauhan (Photo/Video) By Lokesh Goswami Ten News Delhi :
New Delhi: The first ever 'Taiwan Expo 2018' which kick-started in the I capital, New Delhi on 17th May, today, saw the attendance of Mumbai Indians cricket team trio – Hardik Pandya, Ishan Kishan and Suryakumar Yadav who had the first hand on experience of the latest gizmos on display by the top Taiwanese brands in the expo.
Welcoming the players to the Expo, James C.F. Huang, the Chairman of TAITRA, shares, "We warmly welcome respected Mumbai Indian Cricket Teams members to Taiwan Expo 2018. It is a proud feeling for us to showcase our high-quality Taiwanese products to them and I am glad they took the time out to visit the expo and experience the diverse world famous product portfolio of Taiwan."
He further shared, "India is well positioned to become the economic super power of the 21st Century. One of the world's largest economies, India is home to vast numbers of institutions, R&D centers and tech-oriented manpower. This special event gives opportunity to business leaders from both the countries to exchange ideas and share expertise. I am confident all the exhibitors will be able to make new business contacts while visitors will get to know what makes our products and services unique and special".
Mumbai Indian team members not only experienced the Taiwanese technology but also took a tour of the Taiwan Excellence Pavilion which showcased never seen before innovative product from Taiwan's most popular brands. The also took the stage on fire by playing cricket – through a Virtual Reality Technology platform, which enthralled the audience.
The expo is taking place on 17th to 18th May 2018 (10.00 hrs to 18.00 hrs) and 19th May 2018 (10.00 hrs to 14.00 hrs). The entry is free for all. Visitors can also make their registration in advance by visiting the Taiwan Expo website (www.taiwanexpoindia.com).