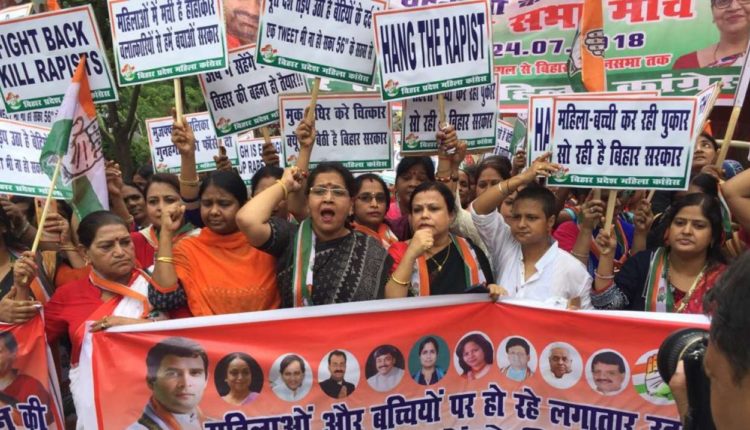 New Delhi: Facing heat over Muzaffarpur mass shelter home rape case, Bihar government today suspended 6 officers of child protection unit for reportedly showing a sloppy attitude over a report that was made by an independent agency that first channelled the attention to the gory details of the Muzaffarpur shelter home rape on Sunday.
The decision has been taken a day after opposition parties' massive protest in Delhi over the issue.
The Department of Social Welfare has suspended six assistant directors of the child protection unit for their inaction despite having all the information concerning the prevailing situation at the shelter home where the children were raped and drugged.
The six assistant directors are of Munger, Araria, Bhagalpur, Bhojpur, Muzaffarpur, and Madhubani districts. The case is being investigated by the Central Bureau of Investigation.
Opposition parties, on Friday came down heavily on JDU-BJP government and CM Nitish Kumar during a massive protest at Delhi's historic Parliament Street organised by Rashtriya Janata Dal.
All opposition leaders including Congress president Rahul Gandhi, Delhi CM Kejriwal, CPI (M) Sitaram Yechury, D Raja, Sharad Yadav and son of former Bihar CM Lalu Prasad Yadav and Leader of the Opposition, Bihar, Tejashwi Yadav took part in the event.
They demanded speedy actions against the accused in the Muzaffarpur rape and justice within three months else CM should resign.
Two weeks after a case of rape of minor inmates of a shelter home in Muzaffarpur was lodged, Bihar Chief Minister Nitish Kumar on Friday broke his silence on the incident and said he was ashamed. He said he would like to have a "High Court-monitored" CBl inquiry into the case and added that nobody found guilty would be spared.
"The Muzaifarpur incident is a heinous act and it has shamed us… The guilty in the case will not be spared… I've asked our Attorney General to request the High Court to monitor the CBI probe…," Nitish Kumar said at a government programme for women empowerment.
Emerging from the programme, Social Welfare Department Minister Manju Verma not only refused to answer questions, but her security personnel pushed media persons, causing some of them to fall, said The Hindu repot.