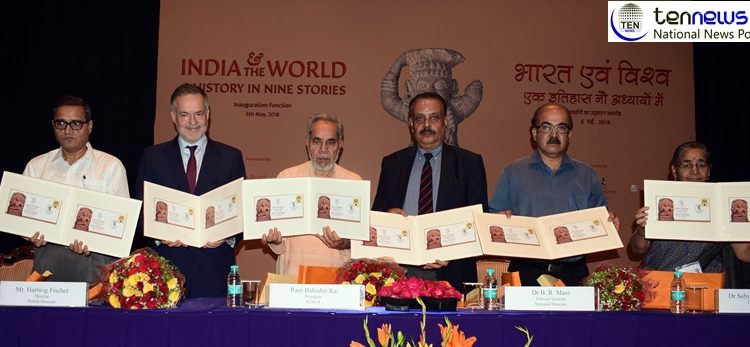 National Museum to host mammoth exhibition on Indian Civilisation
Kashif Hasnain (Photo/Video) By Lokesh Goswami Ten News Delhi :
New Delhi: National Museum in an association with British Museum has unveiled over 200 objects from British Museum, London and 20 museums and private collections from India on display in Delhi from today.
The event titled with India and the world: A history in Nine Stories' offers insights into two million years of the world history.

During the curtain raiser programme, Director National Museum BR Mani, British Museum director, Hartwing Fischer, DG, CSMVS, Sabyasachi Mukherjee release national Museum books, bags, T-shirts and so on.
The exhibition, India and the World: A History in Nine Stories, is an extensively collaborative effort of the British Museum, London; National Museum, New Delhi; and Chhatrapati Shivaji Maharaj Vastu Sangrahalaya (CSMVS), Mumbai and is actively supported by the Culture Ministry.
Planned as part of commemoration of 70 years of India's independence and a year of major cultural exchange between India and the UK (UK/India 2017), the nearly two-month-long watershed show at National Museum, which gets underway on May 5, is travelling to the national capital from Mumbai where it drew an enthusiastic response from critics and public alike at CSMVS.
The exhibition is spread over nine sections, each representing a pivotal moment in history: Shared Beginnings (1,700,000 years ago to 2000 BC), First Cities (3000-1000 BC), Empire (600 BC AD 200), State and Faith (AD 100-750), Picturing the Divine (AD ZOO-1500), Indian Ocean Traders (AD ZOO-1650), Court Cultures (AD 1500-1800), Quest for Freedom (1800-Present), and Time Unbound.
Beginning with the Indus Valley Civilisation and coming down to the present, the artefacts range from stone sculptures, terracotta, coins, tools, inscriptions and manuscripts to textiles, jewellery, Mughal miniatures and contemporary paintings, demonstrating the common threads of human history.
A striking feature of the show is not only its linear and chronological depiction of Indian civilization, but also its exploration of ideas across time periods, and a profound insight into confluence of the ancient and the modern. Essentially, it highlights the strong connections India has shared historically with the rest of the world, impacting each other through a gamut of activities that helped evolve a global culture.
Speaking on the event, National Museum Director General B R Mani said, "This is a phenomenal exhibition for the sheer number of artefacts, the profoundness of concept and the unprecedented extensive collaboration of Indian museums and private collections with the British Museum, London. It truly offers a brilliant exposition on the splendid Indian civilisation and its impact on the global civilizations of the yore."