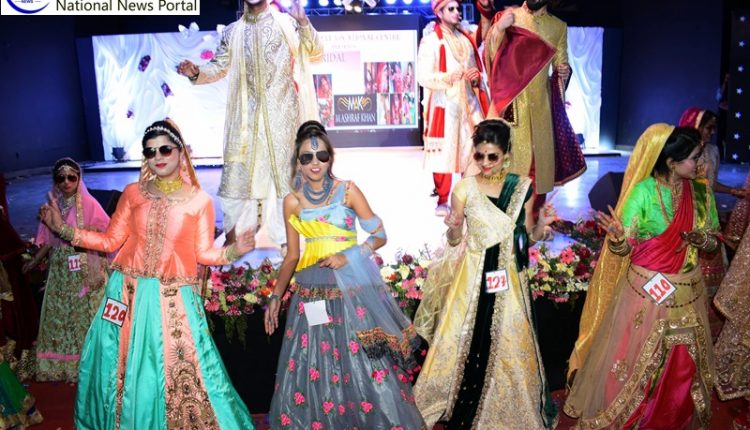 Sankalan -2018: Annual Event In Janki Devi Memorial College Celebrates Women Empowerment!
New Delhi: Sankalan -2018 is an annual event presented by  Janki Devi Vocational Centre (JDVC)  in support  of women Empowerment. The show was divided in two parts. The first part was an Exhibition in which students of Interior  and Fine art participated with their competitive creativity product and other departments displayed their work.  Beautiful use of colours and canvas by fine arts students enhances the charm of an exhibition. Interior designing students visualised the product according to demand of market and developed the! with best of their knowledge. The second part was fashion show where students of Fashion designing department displayed their creative skills by designing garment and showcased them on the ramp.  In this show all the activities from designing, garments, choreography, Music, Light etc. was in house initiative and organised by students themselves which was witnessed by jury members from Art, Fashion, Architect and Interior designing world. The show also showcased different cultural activities like Dance, Theatre. This year JDVC students was also showcased the Dance form of various Indian States like :- Punjab, Maharashtra, Bengal and Rajasthan.
The Theatre Society -"Abhivyakti" in collaboration with Asmita Theatre Group presented two plays- "Dastak" based on atrocity against women and "Budhapa" – dedicated to our Senior citizens.
"One of the most delightful events that one looks forward is the annual exhibition and fashion show that the Janki Devi Vocational Centre hosts. The outstanding talent of the students and the training that they obviously receive, is visible to all. The designing by the students at the fashion show and the live performance, all add up to a mesmerising time. The exhibits by the students are a sight for sore eyes. I am sure that this year too, we will be enchanted by the collection and I am sure that there will be some surprises! I wish Sankalan 2018, great success," said Dr. Swati Pal, Principal (Officiating) of Janki Devi Memorial College under Delhi University.
COMMITTEE MEMBERS
Dr. Bhuwan Mohan, Dr. Kusum Krishna, Dr. Mrs. Sujata Anand, Mr. N.K. Jain, Dr. Swati Pal (Principal, JDMC), Ms. Madhuri Verma ( Coordinator, JDVC)
JUDGES FOR FASHION DESIGNING
Fashion Designers Sanjana Jon, Pratima Pandey, Manish Tripathi,  Jigar, Ms. Indian Diva  organizer ISHREEN VADI, model Bharti Gupta and fashion photographer Rohit Suri.