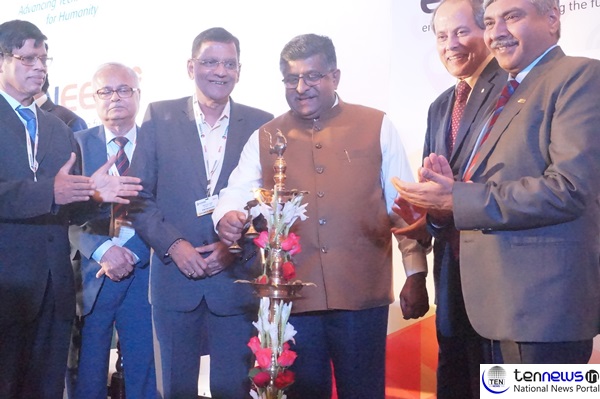 Union Minister Ravi Shankar Prasad narrates India's Growth Story in Greater Noida, gives roadmap for 1 trillion dollar digital economy!
Ashish Kedia / Saurabh Shrivastava
(14/03/2018) Greater Noida :
Union Minister for Law and Justice, IT and Electronics Ravi Shankar Prasad was in Greater Noida to give away the Innovation Day- Engineer Infinite Awards on the side-lines of ELECRAMA 2018. The minister, who confessed to be in a lot of hurry owing to the on-going session of parliament and a cabinet meeting in the evening, delivered a rousing speech relevant to growth of India's digital sector.
He started by talking about PM Modi's workaholic schedule and commented as to how it makes them work more as well, he said "It was very difficult for me to come here in between parliament session. In Narendra Modi's government every Sunday is Monday for us. Our PM works for 18 hours a day and keeping up the pace with him all ministers all dedicate 16-17 hours to their work".
Indian Talent + Information Technology = India Tomorrow
On the World's largest electricity exhibition he said, "ELECRAMA is dedicated to larger cause of Innovation. Our PM has a very clear vision of reform, perform in order to transform. Our PM has already setup a goal for this during 2015 campaign by coining the equation that Indian Talent + Information Technology = India Tomorrow".
He also said that our digital India is known for Digital Innovation; hence the technology to promote digital India must be low cost. In 130 crore population we have about 120 crore cell phones.
IT Minister displays his Aadhar Card, lists its advantages:
On Aadhar card he said, "This ID has my name, address etc which helps in keeping and maintain my record across different services. In system of Aadhar we make 6crore authentication every day. We are also going to link Motor Vehicle license with Aadhar, this will help in catching the culprits who abscond after doing accidents and try to get new driving licences under different aliases in different states".
IT Minister also presented data of BHIM and shared its growth story. He said, "BHIM App was launched in November 2016 at that time 4k transaction happened everyday but today it is 50 Lakh transactions every day".
Aid for establishing BPO's in smaller cities:
Minister also informed about an innovative scheme of government to generate employment in tier-2-3 cities, "Under BPO in small towns in India we opened 48K seats with 1 Lakh subsidy and special 6k seats for eastern India. Inlast 2.5years we already have BPO's working in Bareilly, Patna, Kohima etc. and it is going to come in Ghazipur, Deoria next".
Speaking further on employment he added, "There were only 2 mobile factories in India whereas now we have 118 mobile factories in India 54 in Noida – Greater Noida. In terms of employment India's IT industry employ 40 Lakh directly and 1.26 Lakh indirectly. In BPO and Mobile manufacturing about 5 Lakh people are employed".
Goal of 1 Trillion Dollar Digital Economy:
Union Minister said, "We want to make Indian Digital Economy a 1 trillion dollar economy in coming 5-7 years. WhatsApp , Facebook has the biggest footprint in India . Indian Startup moment is third biggest in World. As IT Minister I am promoting India's new technologies. We are promoting IoT, AI etc . I want to make India the biggest hub of medical electronic technology. We have a target that by 2020 India's 96% mobile will be made in India".
Towards the end of his inspiring address he also recalled his journey from a party worker to a Union Minister and motivated everyone to not to be afraid of failures and keep trying until they achieve success.
Upendra Tripathi, Director, International Solar Alliance also addressed the session and applauded government efforts in this direction. Also present during the session were different office bearers of IEEMA and ELECRAMA.