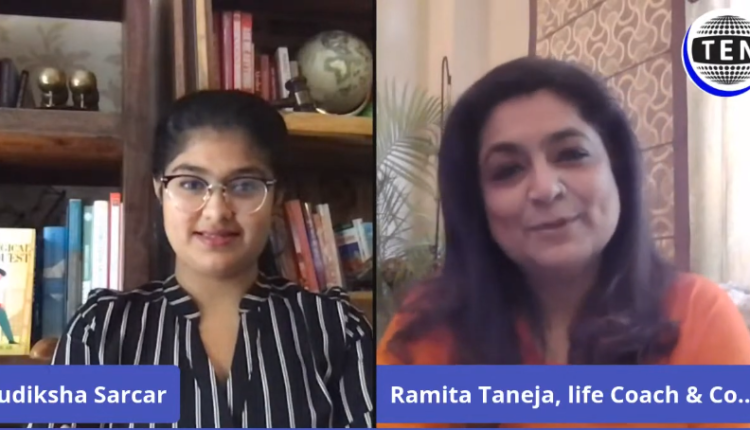 Sudiksha Sarcar, author of "The Theological Quest", shares her journey of writing a book in "Kya Baat Hai" – A Ramita Taneja Show
"6 months back when I launched my talk show, "Kya Baat Hai", like any other newcomer, I was nervous and excited. I had dreams and aspirations to make my talk show a huge success. I picked up topics which were socially relevant. My heart beats with pride because of the love and appreciation my show received from various viewers," said Ramita Taneja while introducing the 2nd season of her much anticipated talk show – "Kya Baat Hai".
"Season 2 will be a little different. Instead of a panel this time, I will be focusing on unsung heroes, the people who have made a difference. These people have something special in them, that is why I have named this season as "Kya Baat Hai – Kuch Khas Hai".
In the first episode of this season, Ramita invited an 11th grade student of Amity International School, Sudiksha Sarcar, who recently authored her first book named, "The Theological Quest".
When asked about this book, Sudiksha said that the book is about various aspects of life. The protagonist – still not out of his adolescence – embarks on a journey to find and seek answers to life's most unfounded mysteries.
Sudiksha informed that with the help of her parents, she developed the habit of reading and writing in 8th grade. 
"I have aspired to write a book since 8th grade. I started with writing poetries, short stories, I had many drafts, but none of them took a final shape. It is after much deliberation that this story started taking shape in my mind, I created a basic outline and realised that it's a tale that must be told. That's how this book started,"
One thing that pressed Sudiksha to write this book was her mother telling her that it's not easy to write a 100+ page book on a particular person. Sudiksha took it as a challenge and ended up writing a book which has over 400 pages worth reading. Sudiksha completed the book within 6 months after spending about 1-1.5 hours daily, on an average.
The ideas of spirituality, humility and changing world, in the book, stem from the conversations of her grandparents, that intrigued Sudiksha and inspired her to write this book.
The biggest challenge that Sudiksha came across while writing this book was searching for appropriate words and phrases. "My father (Mr. Sudeep Sarcar), who has got an amazing vocabulary, helped me in this strenuous task."
When asked about whether the characters are fictional or inspired from her observations, Sudiksha said, "The book is a work of fiction, however, some of the situations in the book are inspired from real life incidents."
Sudiksha named her parents and her seniors as her inspiration and Chetan Bhagat and Paro Anand as her favorite authors, saying that Indian authors are more relatable.
Ramita infomed the viewers that the storyline carries some shlokas from Bhagvad Gita and asked Sudiksha about how she came to know about these Shlokas. Sudiksha said that her grandparents used to chant these Shlokas, that's where she acquired these Shlokas from. She used it in the storyline, in an attempt to instill emotions. 
When asked about whether the book was launched formally, Sudiksha said that the book was launched on the auspicious day of Diwali, within the Durga Pooja community that Sudiksha is a part of.
Sudiksha named painting as her favorite hobby and said that she prefers to stay at home and pursue her hobbies instead of going out.
When asked about whether she has any advice for the budding authors, Sudiksha suggested that one should write about the things that they want to write about, without caring whether or not the topic has an audience.
Ramita summed it up by saying, "Don't cater to people, rather have that individuality and let people come around it."
The book is available on Amazon and Noble Press.