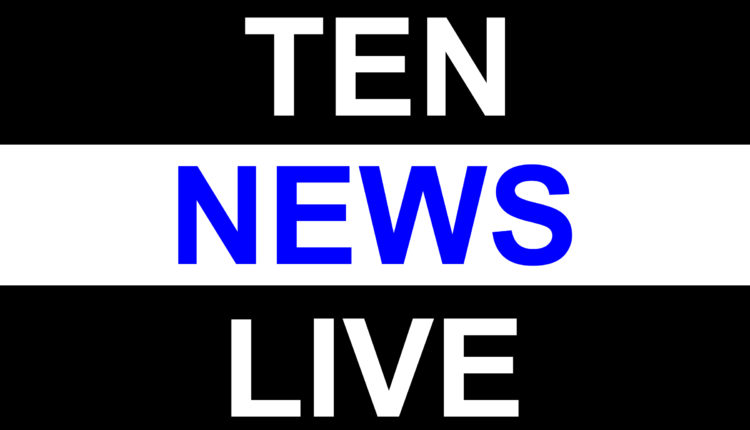 TEN NEWS LIVE – is a webcasting platform of tennews.in : National News Portal. It is dedicated to the important current affairs and is committed towards its role as a webcaster.
TEN NEWS LIVE enables information & knowledge sharing and works as a source of entertainment for the wider audience.
TEN NEWS LIVE – produces and showcases shows/programmes revolving around different facets of news. This includes politics, governance, business, education, technology, medical, film, literature, lifestyle, music, public grievances, environment, art and culture etc.
TEN NEWS LIVE gives special attention to programs related to pertinent national and social issues, challenges and solutions.
All the TEN NEWS LIVE shows / webinars can be viewed from the below platforms:
To host / participate in the TEN NEWS LIVE shows and to provide feedback, please contact us.

9th June @ 10.30 am –  Ten News Live Talk with Shri Samir Oraon Hon'ble Member of Parliament Rajya Sabha
9th June @ 11.00 am – Impact of COVID 19 on Education, Career Opportunities and Mental Stability
9th June @ 12.05 am – ISOL Foundation – Journey so far and ahead
9th June @ 1.05 am – Raghav Malhotra (Moderator Ten News) in conversation with Haider Rizvi (National creative Big Fm, TV writer,Film writer in Mumbai)
10th June @ 7.00 pm – Women Health and Menopause | Kya Baat Hai – A Ramita Taneja Show
10th June @ 8.00 pm – माँ सरस्वती साहित्य मंच एवं टेन न्यूज नेटवर्क | तुम्हारी यादें श्रृंखला -1
11th June @ 12.00 pm – Covid-19: Challenges and Opportunities for the Indian Economy
12th June @ 11.00 am – Astrology: How to find solutions to your life problems
14th July @ 4.00 pm – Post COVID Rehabilitation and Employment of Migrant Labourers – Way Forward to UP and Bihar
---

Monday  @ 8:00 pm to 9:00 pm – SAVE OUR CITY – Delhi Ki Aawaz | Host : Shri Anil Sood
Wednesday @ 7pm to 8pm – Life Coach Shweta Pandey Show
Thursday @ 7:00 pm to 7:45 pm – RASTRA PUNR NIRMAAN KI BAAT BY DR R K KHANDAL | Moderator Prof Mayank Pandey
Thursday @ 8:00 pm to 9:00 pm – SP-CHETNA : Bharat Ki Aawaz | Host : Shri Anil Sood
Friday @ 7:00 pm to 8:00 pm – Kya Baat Hai | A Ramita Taneja Show | Healthcare, Life coaching and Counseling
Saturday @ 11:00 am to 11:45 am – Digitally Yours – A Ram Jalan Show – Digital, Corporate, Economy, Management
शनिवार सायं 4 से 4:45 – एक मुलाकात प्रेरक व्यक्तित्व के साथ | संचालन डॉक्टर संगीता शर्मा अधिकारी, लेखिका – कवयित्री – समाज सेविका
Saturday @ 5:00 pm to 6:45 pm – Nai Pehal / Jilawaar Kavi Sammelan – By Hasya Kavi Vinod Pandey
Saturday @ 7:00 pm to 7:45 pm – Ek Mulakaat – Dr Prof Kuldeep Malik Show – Stall-warts from various walks of life will be featured
Saturday @ 8 pm to 8:45 pm – A Deepak Srivastava Show – Yashsvi Log, Music, Spiritual, Literature
Saturday @ 9:00 pm to 11:00 pm – A Bipin Sharma Show – Politics, Lifestyle, Entertainment, Healthcare, Religious, Spiritual
Sunday 09:30 am to 10:15 am | SACHCHI BAAT BY Prof Vivek Sharma
Sunday @ 10:30 am to 11:15 am – Ayurved Ki Baat by by Isham Ayurvedic Hospital
Sunday @11:30 am to 1:00 pm – A Dr Prof Kuldeep Malik Show – Education, Environment, Yoga , Population
Sunday @ 1:00 pm – Aatm-nirbhar Bharat | A Dr (Prof) Praveen Pachauri Show
Sunday @ 5:00 pm to 5:45 pm – Aditya Kavyanjali | A Aryakumar Vikramaditya Show
Sunday @ 7:00 pm to 7:45 pm – A Kapil Kumar Show – Literature , Entertainment, Music
Sunday @ 9:00 pm to 11:00 pm – A Bipin Sharma Show – Politics, Lifestyle, Entertainment, Healthcare, Religious, Spiritual
Sunday 6:00 pm to 7:00 pm – Life Coach Shweta Pandey Show

Most viewed shows / webinars:
5th July – Aditya Kavyanjali | Ek Shaam: Veerta Ke Naam
3rd July – Wah Re Womenia | Kya Baat Hai – A Ramita Taneja Show
21st June – Young Achievers Leading by Example | Coach Shweta Show
21st June – Aditya Kavyanjali | Sabras Moorsani
21st June – Fighting depression through Ayurveda by Ishan Ayurvedic Hospital
20th June – Sanskriti Ke Sarathi | Ek Shaam Pravasi Bhartiyo Ke Naam
18th June – Debate: How to achieve emotional balance in adverse times
14th June – Debate : Coping with stress and psychological disorders during Corona Times
14th June – Ek Shaam Dr. Markande Ahuja Ji Ke Naam | Kapil Kumar Show
14th June – Aditya Kavyanjali | Ek Shaam Satrangi Kavitao Ke Naam
9th June – Corona and Lockdown | Face to Face with Dr Mahesh Sharma, MP & Ex Union Minister
7th June – आदित्य काव्यांजलि
6th June – रस बनारस – एक शाम बनारसी कवियों के नाम
31st May – Aditya Kavanjali with Ana Dehlavi
31st May – Ayurved Ki Baat – Ishan Ayurved Hospital Greater NOIDA
30th May – Kavi Sammelan – Geet Gata Chal
25th May – Geet Gata Chal | A show by DMS Arohi and TRI Group of Music with top singers
24th May – Aditya Kavyanjali with Kavi Pankaj Angaar
24th May – Ayurved ki Baat – Miracles of Ayurved for Diabetes | A show by Ishan Ayurvedic Hospital, Greater Noida
23rd May – Nagendra Pratap Singh IAS| DM Azamgarh | Corona Lockdown| Mann Ki Baat
22nd May – Kya Baat Hai – A Ramita Taneja Show
19th May – National Political News Analyst Bipin Sharma in conversation with famous folk singer Mrs. Sanju Singh
17th May – AYURVEDIC PANCHKARMA – SCIENCE OF HEALING FOR PERFECT HEALING BY ISHAN AYURVEDIC HOSPITAL GREATER NOIDA AND TEN NEWS NETWORK
17th May – Corona and Lockdown – Education and Assessment
16th May – MediTalks with Healthcare Experts
16th May – Hunger Warriors and Lockdown

---

हनारे इर्द गिर्द काफ़ी मेहनती, जज़्बे वाले यशस्वी लोग नज़र आते है|
हम उन्हें देखना चाहते है, मिलना चाहते है, सुनना चाहते है, उनके साथ सेल्फ़ी खिंचवाना चाहते है, उनके जैसा बनना चाहते है
उन्ही लोगों के जीवन के कामयाबी के कुछ अंशआप के सामने लाने का यह छोटा सा प्रयास. टेन न्यूज़ लाइव विडीओ मुलाक़ात के ज़रिए आप को प्रेरित करने के लिए|
ऐसे यशस्वी लोगों का प्रोफ़ायल हमें ncrdelhi@tennews.in पर उनके फ़ोटो और कॉंटैक्ट्स के साथ भेजने का कृपया कष्ट करे ।
सादर
टेन न्यूज़ नेटवर्क टीम