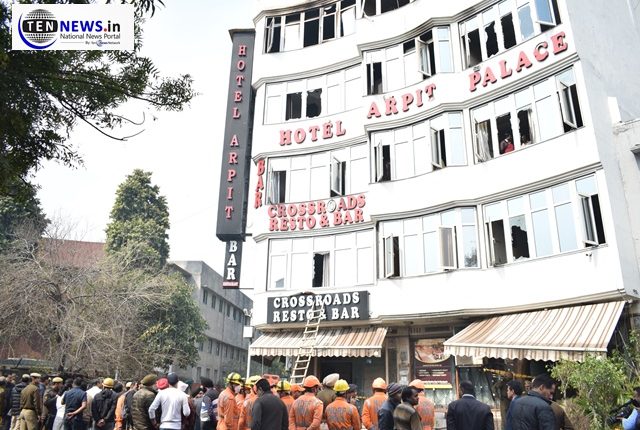 New Delhi: On Tuesday morning, Delhi people were gearing up for their work, massive fire break out in Delhi's Karol Bagh Hotel Amrit Palace which blamed the lives of 17 people including a woman and child.
According to a local, the woman with his child jumped out of the window, the duo was taken to a nearby hospital in an ambulance where doctors declared them dead.
The fire broke out during early morning hours around 4 a.m, when the people were sleeping in their closed rooms, more than 25 fire brigade trucks rushed to the place of incident and douse the flames.
National Disaster Response Force (NDRF) also dashed to the place to counter the horrific incident and rescued around 45 people present inside the hotel premises while the injured were shifted to Dr Ram Manohar Lohia Hospital and Sir Ganga Ram Hospital and getting their medical treatments.
"Cause of the fire is yet to be investigated. 30 fire tenders were rushed to the spot. The rescue operation is over. There was a wooden paneling on the corridor because of which people were not able to use corridors to evacuate, therefore two people jumped off the building to escape the flames," Vipin Kental, a fire official quoted as saying in a media report.
According to the police officials, among the deaths most of were due to suffocation.
Delhi's Minister of Health, Industries, Power, Public Works Department, Home and Urban Development Satyendra Kumar Jain said, "As many as 17 people had died and two others were injured. Most of the people died due to suffocation. Strict action will be taken against those found guilty of negligence. District Magistrate has ordered inquiry."
Prime Minister Narendra Modi has also expresses his condolences to the families of who lost their lives"I convey my condolences to the families of those who lost their lives. May the injured recover soon," he said via a tweet posted on the PMO handle.
After this shocking incident, the Delhi government has cancelled their four year celebration event.