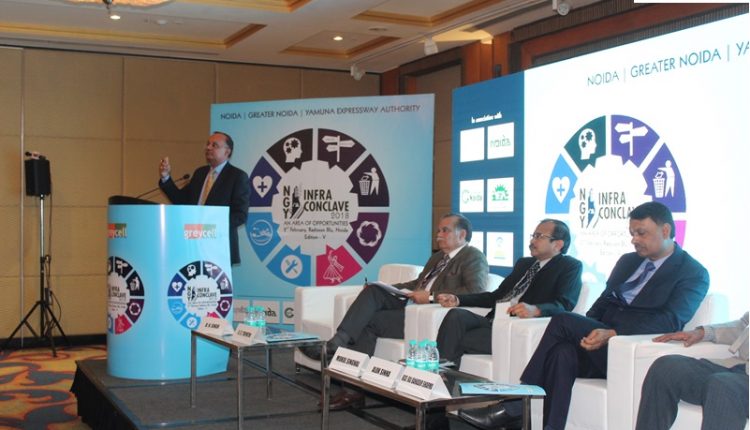 NGY Infra Conclave 2018 : Decision Makers Share Plan and Vision for Gautam Buddha Nagar!
Ashish Kedia / Jitender Pal
NGY INFRA CONCLAVE was held at Hotel Radisson Noida. Brain storming sessions were conducted on various aspects of the city of Gautambudh Nagar. Present on the occasion were Mukul Singhal, Principal Secretary Housing and Town Planning UP Government, Alok Sinha, Principal Secretary Industries, Luv Kumar, DIG Gautambudh Nagar, B N Singh, District Magistrate Gautambudh Nagar and other senior officials of the district and state.
Rajeev Bansal, Divisonal Chairman IIA addressed the gathering and spoke about the problems of the city and how to overcome them.
UP RERA Charman Mukul Singhal talked about issues being faced by Noida and Greater Noida buyers and what concerned authorities are doing for their earliest resolution.
DIG Love Kumar talked of various law and order issues concerning Gautam Buddha Nagar and said that police department is working hard to have an image makeover. Police personnels are trained for a friendly approach and citizens should not worry while approaching police stations for resolution of their grievance.
DM B N Singh talked of various schemes of central and state government and talked about their implementation in Gautam Buddha Nagar.
Other members present were Gaurav Uppal, Vice chairman, Ashish Malhotra, Secretary, Mukesh Kaushik, treasurer, Sh. Mukesh Varshney, Kishore Kumar Singh,  Naveen Gupta, Sahil Kumar, Umesh Batra, Harish Madan, Visharad Gautam,  Chetan Uppal, Mala Arora, Rekha Gupta & Deepak Shrivastava.
Also present were H K Agarwal, Chairman IIA Modinagar along with his team