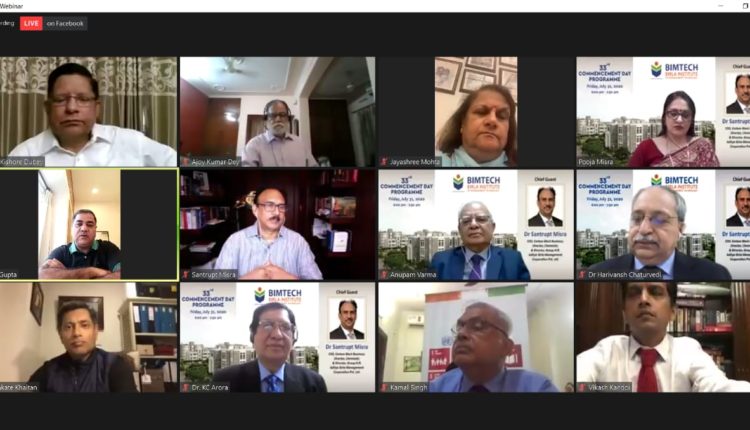 33rd Commencement Day at BIMTECH, Greater Noida
Ten News Network
33rd Commencement Day, Birla Institute of Management Technology, Greater Noida, rolled out a virtual red carpet to welcome 420 students of its 33rd Batch of PGDM 2020-22 and their family members on 31st July, 2020 via Zoom platform. It was a three-day event from 31st July, 2020 to 2nd August, 2020, with the last day dedicated to department-wise orientation, viz. PGDM- Core, International Business, Insurance & Retail.
This special event was graced by honourable Chief Guest, Dr. Santrupt Misra, CEO, Carbon Black Business Director, Chemicals; Director, Group HR Aditya Birla Management Corporation Pvt. Ltd., who shared his utterly inspiring corporate journey and boosted the morale of the students through his encouraging words. The virtual ceremony also saw the unveiling of the annual activity reports of the Centre for Management Case Development &  the Centre of Innovation and Entrepreneurship Development by their respective chairpersons, Dr. AK Dey and Dr Abha Rishi.
The orientation held for different departments was marked by the presence of eminent industry honchos who shared their words of wisdom with the newcomers instilling in them the confidence to embark on this new journey.
We are stoked to have new members on board and we would request you to publish our press releases (attached herewith) in the esteemed columns of your daily. We stand highly grateful for your support thus far.