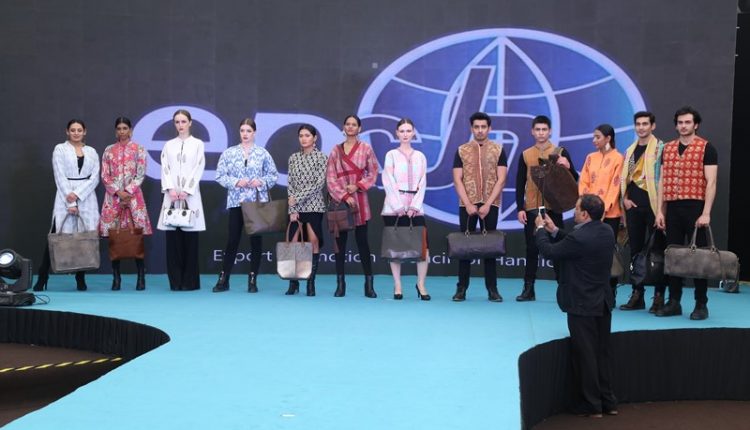 4th Day of IHGF- Delhi Fair Spring 2018 Highlighted the Trends and Forecast of Autumn/Winter & Spring / Summer 2019
Greater Noida –  26th February, 2018  –  45th edition of IHGF – Delhi Fair Spring 2018, being organized in India Expo Mart, Greater Noida to woos buyers from around the world with huge collection of 2000 handicrafts products across 14 product categories including Houseware, Home Furnishing, Furniture, Gifts and Decorative, Lamp & Lighting, Christmas & Festive Décor, Fashion Jewellery and Accessories, Spa and Wellness, carpets and Rugs, Bathrooms Accessories, Garden Accessories, Educational toys & games, Hand-made paper products and Stationery and Leather bags,  manufactured by Indian exhibitors.
Several seminars were conducted during the event where experts from different fields and subjects were invited to upgrade the knowledge of the participating exhibitors.  One of the most important seminar held on 4th day of the event was on Trends and Forecast of Autumn/Winter & Spring/Summer  2019 in which  Mr.  P. J. Arandor, Fillipino International Lifestyle Designer apprised the participating companies to manufacture their products as per upcoming trends during Autumn/Winter & Spring/Summer 2019  so that that attention of buyers can be attained during participation in forthcoming International and domestic fairs.  The seminar focused on the tendencies for the coming season in key colours, core directions, essential moods, relevant materials, dominant patterns and significant images for 2019 , said  Rakesh Kumar, ED – EPCH.
Rakesh Kumar further elaborated that the fair also provides an opportunity to the exhibiters to promote their products through the fashion shows.  On 4th day, the fashion show showcased Jewellery, Fashion Accessories and Artisanal Apparel provided by the exhibitors such Handicraft and Handloom of Odisa,  R.Co. Arts Emporium, Maharaja Crafts, Kohli Overseas Trading Co. and M. A. Internationals.