Maruti Suzuki Autoprix (Season 1) celebrates its first Champion BikkuBabu bags the coveted title
ROHIT SHARMA / ASHISH KEDIA
(26/02/18) GREATER NOIDA :–
MarutiSuzuki Autoprix(Season1) concluded on a high note at theBuddh International Circuit, Greater Noida with BikkuBabu, clinching the winning title. The young champion, emerged victorious after gruelling preliminary rounds across 7 cities, spanning all four zones in India.
Bikku Babu was driving a Baleno RSand clocked a total of 183.557 seconds. Chasing the lead at the second position wasSamrat Yadavand the third position was bagged by Aabhishek Mishra.
The season 1 of the Maruti Suzuki Autoprixralliedacross the country with the first round kicking off from the garden city of Bengaluru last September. It went on to travel across 7 cities in India,touching the length and breadth of the country.
Speaking on the occasion,Mr. Tarun Garg, Executive Vice President (Marketing), ‎Maruti Suzuki India Limited, said, "It is heartening to see the overwhelming response and participation that Maruti Suzuki Autoprix (Season 1) has been able to garner across the country.We aim to encourage safe, yet fun and thrilling racing experiences and enable budding motor enthusiasts to hone and test their skills in a controlled environment. I congratulate the indomitable spirit of all the participants who put their mettle to test."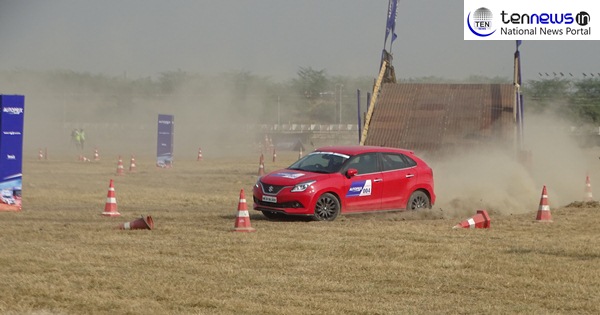 He added; "There is an increasing enthusiasm in the country towards motorsports and we have a commendable pool of talent. It is our objective to cultivatethis talent by providing them with a safe and exhilarating platform."
About Maruti Suzuki Autoprix 2017 (Season 1):Maruti Suzuki Autoprix 2017 (Season 1) was spread over 6 months, comprising of 7 city rounds covering Bengaluru, Pune, Coimbatore, Chandigarh, Guwahati, Gurugram and Indore. The finale of Maruti Suzuki Autoprix concluded in Greater Noida at the Buddh International Circuit on the 25thof February. The national champion of Maruti Suzuki Autoprix 2017 (Season1) baggedthe all new Maruti Suzuki Swift while there were cash prizes for respective cate