55th IHGF Delhi Fair 2023 set to open on 15th March, unprecedented buyer traffic from over 110 countries expected
TEN NEWS NETWORK

Greater Noida – 13th March 2023 – The upcoming 55th edition of IHGF Delhi Fair, organized by the Export Promotion Council for Handicrafts (EPCH), is scheduled from 15th to 19th March 2023 at the India Expo Centre & Mart, Greater Noida Expressway. "Slated to be bigger and spectacular in its Spring format, the show is structured with 16 gigantic halls, housing 14 major display segments of Home, Fashion, Lifestyle, Textiles and Furniture. The product assortment will feature housewares, home furnishing, furniture, gifts and decorative, lamps and lighting, Christmas & festive décor, fashion jewellery & accessories, spa & wellness, carpets and rugs, bathroom accessories, garden accessories, educational toys & games, handmade paper products & stationery and leather bags. With a new range of handicrafts and gifts products, collectively they offer a full spectrum of thoughtfully curated concepts and products at a single platform," shared Raj Kumar Malhotra, Chairman, EPCH.
He also shared his views on the recently announced PM Vishwakarma Kaushal Samman (PM VIKAS) scheme as a good initiative aiming to benefit traditional artisans and craftspeople, the Vishwakarma's who work with their hands using tools. The art and handicraft created by them represents the true spirit of Atmanirbhar Bharat. He further added that the Council is already working on most of the aspects which are highlighted in the scheme and hoped that this new initiative will strengthen the council's resolve to work towards providing gainful opportunities to the artisans spread across the nook and corner of the country and will contribute towards the Atmanirbhar Bharat vision of the Hon'ble Prime Minister of India.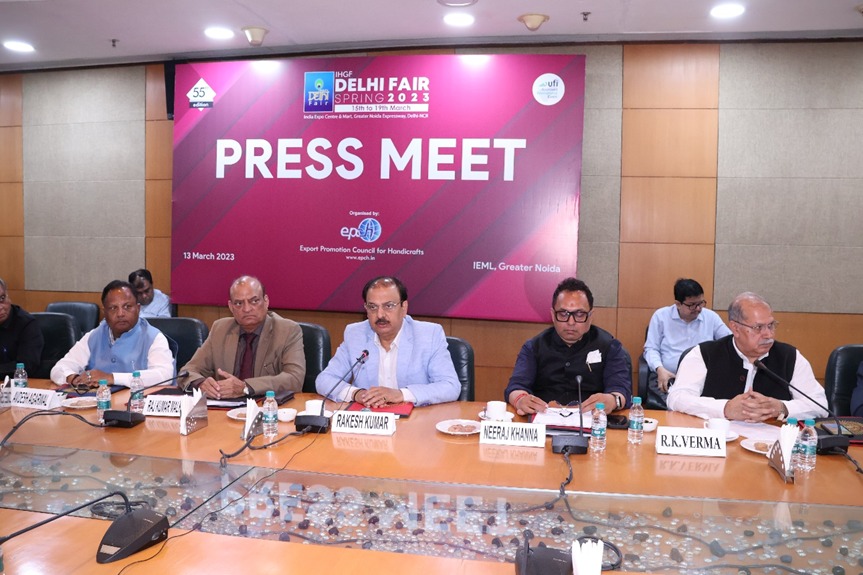 Rakesh Kumar, Director General, EPCH and Chairman, IEML spoke about the journey of IHGF Fair since 1994 and the changes it went through over the last 30 years. Adding further he said, in order to enhance exports of handicrafts in years to come, it is important that our exporters should take advantage of China "Plus One" policy being adopted by various countries after pandemic. India as a nation should try to be that plus one country and we must focus on exports in JIT (Just in Time) and look towards fulfilment centers in overseas markets.
He further informed "Sustainability continues to be at the forefront of the product offerings at the IHGF Delhi Fair and this time, there is renewed focus on sustainable & eco-friendly crafts, created with materials and processes that are friendly to human and animal health as well as environment and ecology. Sustainable living and lifestyles have gathered impetus in recent times as more and more people make conscious efforts to reduce their carbon footprint. A panel discussion and product gallery on Sustainable & Recycled products is being put up to express commitment to these principles."
Avdesh Agarwal, President, Reception Committee, IHGF Delhi Fair-Spring 2023, further informed, "In all, there will be over 3000 exhibitors drawn from pan India with strong representation from handicraft clusters, production hubs and artisan villages. Collectively, they present 2000+ new products and 300+ design expressions. Besides exhibitor booths in the halls, visitors will have access to the 900 Marts/permanent showrooms of leading exporters, located on various levels of the India Expo Centre. Added attractions like Theme Pavilions, Trend Areas, Craft Demonstrations, Fashion Shows and Panel Discussions, Knowledge Seminars, besides Buyer Lounges and Refreshment Zones would make attending the show a truly wholesome experience. Craft based lines from Maharashtra, North East Region & Tamil Nadu and other parts of the country are stationed in vibrant thematic presentations at the center of the show, will be among attractions for the visiting overseas buying community."
R. K. Verma, Executive Director, EPCH added, "IHGF Delhi Fair endeavours to present the culturally and craft rich India with its ability, capacity and competence to cater to home, lifestyle, fashion, textiles and furniture markets globally. And this is precisely what brings the entire world to source from their very own 'one-stop sourcing platform for the newest and most innovative products'. Hence, to cater to existing buyers and draw new ones, the participation has been all inclusive with exhibitors ranging from medium and small exporters, artisan entrepreneurs and designers to India's leading manufacturer exporters."
The visitors profile to the show includes overseas buyers from across the globe comprising wholesalers, distributors, chain stores, departmental stores, retailers, mail-order companies, brand owners, buying houses and designers and trend forecasters.
Overseas buyers from over 110 countries including United Kingdom, United States, Canada, Germany, France, Spain, Norway, Greece, Italy, Sweden, Turkey, Netherlands, Belgium, Poland, Slovenia, United Arab Emirates, Brazil, Japan, Lithuania, Argentina, Australia, New Zealand, Republic Of Korea, Qatar, Russian Federation, Saudi Arabia, Singapore, South Africa, Mexico, Panama, Peru, Morocco, Georgia, Chile, Colombia, Uruguay, Israel, Taiwan, Hong Kong, Egypt, Jordan, Philippines, Kuwait, Lebanon, Malaysia, Algeria, Ghana, Islamic Republic Of Iran, Mauritius, Nigeria, Oman, Vietnam and many more have pre-registered to visit the fair.
Representatives from companies/ departmental stores like Buyers from companies/ departmental stores who have already confirmed their visit to the show include Alfa Tango Home Decor, Argentina; Jemark Imports, Global Retail Brands, Australia; Jolipa BV, Pomax, Belgium; Abbott, Forpost Trade Inc, Canada; Chic Antique, Denmark; Khg Gmbh & co. Kg, Berk GmbH & Co. KG, Germany; POSHLIVING CO.,LTD., Sugita Ace Co., Ltd, Japan; Grupo Serigrafico S.A. de C.V., Mexico; Haco wonen en slapen, The Netherlands; Sklum, Spain; Chairs Ltd T/A Coach House, Barker and Stonehouse, UK; BMA International Group, Sensation Trading LLC, Treasures Palace LLC, UAE; Benzara Inc, Haute Arte, Loloi Inc, Nadeau, India Connection, One Hundred 80 Degrees, Bali Designs Inc, The Import Collection, Tjx Corp & Joyfulmuze, USA and many more, informed Mr. R. K. Verma, Executive Director, EPCH have already confirmed their visit to the show.
Buyers from across the globe prefer to visit IHGF-Delhi Fair for their sourcing requirements because it is an exclusive connect to leading Indian manufacturers with an exquisite product range, attractive prices, different varieties, distinct quality and new product lines.
Dileep Baid, Vice Chairmen, EPCH, informed, the show, since its past few editions, has opened its gates to volume retail buying from renowned domestic players. Welcoming and facilitating the fast changing retail landscape in India fuelled by renewed buying dynamics and quest for international designs and premium products, IHGF Delhi Fair continues to host visitors from major Indian Retail/online brands including Archies Limited, DLF Brands Pvt Ltd, Fabindia Limited, Goodearth Design Studio Pvt Ltd, Jainsons, Lulu Group India, Maspar Industries Pvt. Ltd., Myntra, Nicobar Design Pvt Ltd, Radisson Hotel, Reliance Retail Ltd, Shopper Stop Ltd, Snapdeal India Trent Limited etc. and many more
Neeraj Khanna, Vice Chairmen, EPCH, informed, in order to give wide publicity, the Council has undertaken extensive promotion and publicity campaign all across the globe through digital advertisements in international magazines, their digital publications, online portals, web banners etc.  Further, Indian Embassies extended invitation to buyers and importers in their respective countries. The fair has been widely covered in digital publications and social media.
The EPCH being a nodal agency, promoting exports of handicrafts from the Country to various destinations of the world and projecting India's image abroad as a reliable supplier of high quality handicrafts goods & services. The Handicrafts exports during the year 2021-22 was Rs. 33253.00 Crores (US $ 4459.76 Million) and during April-February' 2022-23 is Rs. 28727.91 Crores and USD 3505.84 Million informed by Mr. Rakesh Kumar, Director General, EPCH.