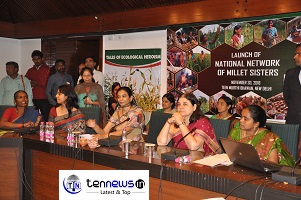 The 5th National Convention on Millets was held on November 29-30, 2016 at Nehru Memorial Museum and Library(NMML) at Teen Murthi Bhavan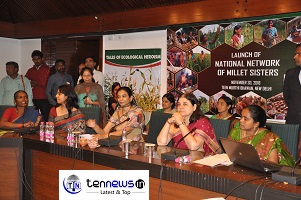 The 5th National Convention on Millets was held on November 29-30, 2016 at Nehru Memorial Museum and Library(NMML) at Teen Murthi Bhavan, New Delhi. The event was organised by Deccan Development Society (DDS) an organization working with almost 5000 very small women farmers belonging to dalit communities in Medak district of Telangana, in collaboration with Millet Network of India(MINI) an alliance of more than 145 groups of farmers, scientists, media people from across 13 states of India, NMML and FIAN India.
The two day National Convention also becomes an occasion for the launch of the National Network of Millet Sisters with about 5000 women farmers membership. The convention mainly focused on the promises made in the National Food security Act that promises the supply of 7kgs of millets along with wheat and rice to all the PDS card holders. While this is a laudable step by the government of India the responsibility of implementation of this clause is the complete responsibility of state governments, thereby lies the crux of the current problem even after 3 years of the National Food Security Act. Except for Karnataka no other state government has implemented this provision.
Therefore the Convention met the Union Minister for Food and Civil Supplies, Govt of India Shri Ram Vilas Paswan and urged him to take a serious view of this lapse.
The event was marked by the presence of Chief Guests Ms Maneka Gandhi, Union Minister for Women and Child Development and Smt Prathyusha Rajeshwari, Member of the Parliament for Khandamal constituency, Shri Shakti Sinha Director, Nehru Memorial Museum & Library, Mr Biraj Patnaik, Principal Adviser for Supreme Court Commissioners on Right to Food, Dr Vilas Tanopi, Director, Indian Institute of Millet Research, Dr T N Prakash, Chairman, Agriculture Price Commission for Karnataka. The event received participation from more than 100 millet farmers from different states of the country, civil society organisations, academicians, nutritionists and media experts.
The two day Convention was divided into a number of listening sessions to discuss the role of States, Science and Media for promoting Millets' cultivation and consumption in which we heard concerns of the millet farmers from Andhra Pradesh, Gujarat, Himachal Pradesh, Uttarakhand, Karnataka, Madhya Pradesh, Nagaland, Odisha, Telangana and Tamil Nadu who vividly described the millet situation in their states and they made the Delhi Declaration on Millets (please find the Declaration & some photos attached herewith).
We kindly request you to cover the news in your esteemed media. Please be in touch with my colleague Ms Tejaswi at 7799221500 for any queries in this regard.
with warm regards,