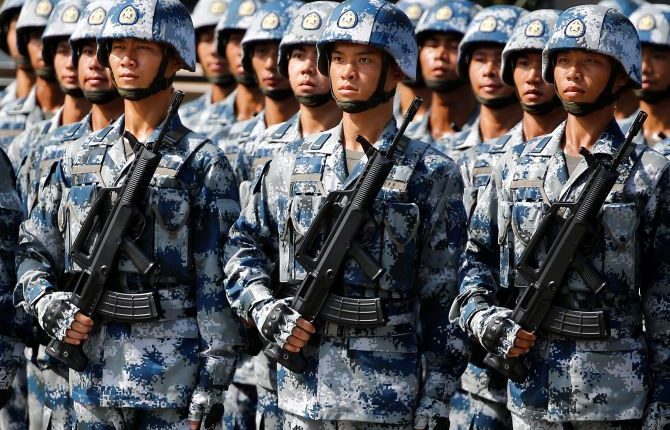 A Commentary on Chinese Aggression along LAC
Article by Col P Chandra (Retd)
China has entered into confrontation with India over some of the most inhospitable and rugged terrain on Earth. The dragon is setting an offensive narrative not only along LAC but also in South China Sea, Hong Kong, Taiwan and Japan. Decades old LAC dispute came to fore in Galwan Valley on 15 June 2020. Since then China has been building up its forces in the remote Galwan Valley, high up in the Himalayas and in many other areas along the border. China took an especially muscular posture, sending in artillery, armored personnel carriers, rocket forces, dump trucks and excavators. China's behavior at LAC has become a strategic puzzle. Politicians and various think tanks are scratching their heads to analyze Chinese mindset. We are still not clear as to what China wants to achieve by simultaneously challenging many countries of the world. For how long will China continue with this confrontation and what are its future strategies?     
India has no option but deploy its forces as a mirror image, to counter China's territorial aggression. China's hegemony came into focus when entire world is engaged in fighting corona virus and its adverse effect on economy. 
Expansionist China has started a Hybrid War
Thirty one percent of China is forcefully acquired. Xinxiang and Tibet are two examples. China has also occupies two pieces of Indian territory. These are Aksai Chin which has area of 38,000 square kilometer while Pakistan ceded to China 5,180 square kilometers of occupied Indian territory in 1963 under Sino-Pakistan boundary agreement. So the expansionist design of China is well recognized by world community. China is currently involved in territorial disputes with over 20 countries including India, Nepal, Bhutan and Japan. Its design in South China Sea is well known.
China has chosen to start a hybrid war against India rather than a conventional war. Hybrid war involves starting border friction, expansion of fronts by creating military threat simultaneously at many places, forcing of costly military mobilization, politico diplomatic intimidation, good amount of psychological operation & propaganda, cyber threats, posturing, projection, economic war and taking advantage of geopolitical power game. China will not jump into conventional war against India because Indian soldiers are well known for their mountain warfare capabilities. China will never risk a negative outcome. Hybrid war allows China to test the waters and calibrate further response or draw back without burning the fingers and thereby save face. But India has countered all these moves very effectively. So far India's military preparation and pushback has been effective and mature. So China has got checkmated and hence needs time to reconsider, recalibrate and re-strategize. But military and economic asymmetry exists. 
Sitting on the fence is not an option
Making sense of China's actions is a challenge at most times. Dragon is master of deception and excels in the art of indirect assault. Sitting on the fence is no longer an option and not a good strategy. India is specially affected due to China – Pakistan axis and their collaboration to contain India by any means possible. Due to Chinese hegemony we are witnessing a conflict between freedom and authoritarianism. China has no hesitation in joining forces with likes of Pakistan, South Korea and Iran. China is not bound by any international law and has never respected any treaty or agreement. So the democratic world has to join together and form a coalition as force multiplier against Chinese designs of world dominance. The like minded democratic countries have to act for a rule based order which is guided by international laws and treaties. 
Many countries are joining forces to counter China's plans to become number one superpower and international bully. China presents a big strategic and security threat to many big and smaller countries, including India, USA, Australia and Japan. Communist Party of China (CCP) is clearly attempting to undermine the USA position as the dominant world power. If and when its plan to muscle out USA from East Asia succeeds China's next move will be to force India to accept China as dominant force and will then force India to take a subordinate position in scheme of things. 
World community is slowly realizing that India now needs to play an important role as a leading democratic country of the international community. USA also realizes that India needs to be helped by USA to make it militarily and economically strong to act as a bulwark against China. India also need to develop itself as alternate hub of worldwide supply chain. 
India's place in multilateral world order
It is pertinent to bring out that India understands the situation and is already taking steps. For example Indian has invited Australia for the first time to join Malabar naval exercise. Foreign secretary Harsh Shringla is travelling to democratic countries like France, UK and Germany. European countries have significant economic and technological clout with a GDP of over $ 20 trillion. The European Union can contribute significantly towards a rule based international order which is essential for establishment of international peace. European Union and USA also consider India as a dependable partner. These countries realize that India has significant economic potential and can become a supply chain hub.   India is already holding strategic consultations on security, healthcare and economic cooperation with USA and European countries. Indian policy makers understand that we need to attract large scale foreign investment in manufacturing and defense sector to recover from damage done due to Chinese virus. Rise of India is of strategic importance for democratic world as it will counter Chinese expansionism. China is out to destroy multilateralism by establishing its hegemony. If China succeeds, it will lead to uncertainty and turbulence. The democratic world is committed to multilateralism. Therefore an alliance through international collaboration is emerging to push for multilateralism. 
Indo US Collaboration
Therefore it is essential for both USA and India to deepen their defense and strategic ties. With a view to attain this objective 2 + 2 dialogue took place between India and USA in October 2020. This meeting comes in the background of border standoff between India and China and also due to growing power tussle between USA and China in South China Sea and elsewhere. USA has expressed strong solidarity with India over the issue of Chinese transgression along LAC in Ladakh. However the world community is closely watching the events and Indian response to Chinese aggression. USA is actively forming an anti China alliance. Therefore any hesitation on the part of India to check China will cause permanent damage the anti China agenda and will lower the credibility of Indian will to counter China.
It has become essential to coordinate strategies amongst India, USA, Australia and Japan. Quad was formed precisely for this reason. USA can not only modernize the military capabilities of India, it can also help in industrialization in India by providing transfer of high end technology in various fields.
Disappointing Role of United Nation
United Nation celebrated its 75th anniversary on 24th October. It is now seen as old and doddering. The primary purpose of setting up UN was to maintain international peace and security. The permanent five are supposed to jointly protect the world from conflicts and wars. They became permanent members to fulfill this most important promise of the Charter of UN. Wars are being waged in many parts of the world. Terrorism is being used state policy by many countries. But the permanent five have not acted jointly even once to tackle these issues which threaten world peace. 
The UN is an inter-governmental organization consisting of 193 member countries which are sovereign states. Therefore UN can only be what its members make of it. Today there is no consensus amongst the permanent members. So Security Council is moribund and unable to tackle serious issues. China wants to ascend to number one position in world order by replacing USA. France and United Kingdom are no longer world powers and are no match to economic & military might of China. Soviet Union no longer exists in its original form. Russia is economically much weaker compared to China. So it is expected that in coming years China will increasingly play a dominant role in UN.