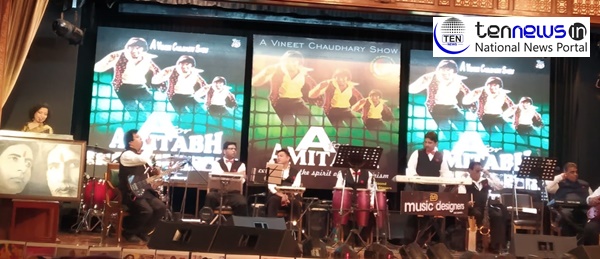 A for Amitabh – A Vineet Chaudhary Show hosted musical feasts for fans
Vishal Malhotra (Photo & Video) By Rahul Kumar Jha
New Delhi: On the occasion of legendary actor Amitabh Bachchan's 76th birthday, Vineet Chaudhary organised his show named "A for Amitabh", a flagship program in New Delhi on Amitabh's birthdays.
Being a fan of a star is a very normal thing that happens in our daily life but a fan who take his favorite actor as his God is something to think about thoroughly.
Vineet Chaudhary, one of the biggest fans of @SrBachchan enjoys Amitabh's birthday much more than his own birthday or any other happy occasion .
Vineet is someone who knows everything about Amitabh Bachchan and even people after watching and listening him thinks that he knows about Amitabh much more then Amitabh himself.
Today, on the occasion of Amitabh Bachchan's 76th birthday, Vineet organised his flagship show "A for Amitabh" at India Islamic Center, New Delhi which was fully packed show and even audience were so involved that they couldn't resist themselves from dancing.
Collection of songs from Amitabh's most successful movies were presented by various singers from Delhi and neighboring areas.
Show started with a beautiful old lady Hamida who knew Amitabh Bachchan very closely.
She used to be in the same college with Amitabh, used to travel in the same bus with Amitabh Bachchan.
Vineet Chaudhary compiled a collection of very beautiful songs of Amitabh's movies.
Vineet himself sung some of the superhit songs of Amitabh. Some of them were Jumma, Mai Sharaabi Hoon, Mai hoon Don, Mard Taange Wala , Chora Ganga and many more.
"Kabh Kabhi mere dil mein", one of the most beautiful song starring Amitabh from the movie "Kabhi Kabhie" was presented by one of the singers of the night named Dhanpat. This song made all of the people present there sing with Dhanpat .
Vineet was asking questions after every single performance of him from audience and was gifting the winners.
Vineet Chaudhary made the night of Amitabh's birthday a very memorable event for all the people who witnessed the occasion.
Vineet was when asked by Ten News correspondent , if Amitabh himself praises him for his program on every single birthday of his, his words were, "One can easily understand, how someone can feel if paised by God .
Amitabh Bachchan is not an actor for me, he is someone I talk to, when alone which is something we use to do with our God. So Amitabh Bachchan is my God and I will always pray for his long life."