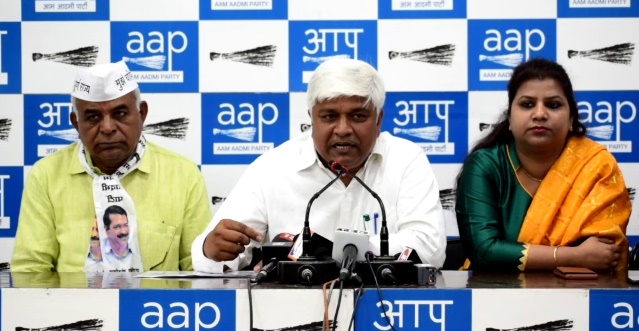 Aam Aadmi Party's North-West Delhi Candidate Gugan Singh In a fireside chat with Ten News
Vishal Malhotra (Photo-Video) Lokesh Goswami Tennews New Delhi :
New Delhi : AAP Candidate from North-West Delhi Lok Sabha Constituency, Gugan Singh today had a conversation with Ten News where he shared his main motive for Lok Sabha elections which was undoubtedly same as other AAP candidates from past many months are shouting for, which is the demand for Full Statehood.
Gugan Singh said, "As we revealed today that my opponent from BJP, Hans Raj Hans is not an appropriate candidate for fielding from North-West as he confessed Islam back in 2014 and this constituency is just for reserved candidates."
This Lok Sabha constituency consists of 21 per cent Dalits, 16 per cent Jats, 12 per cent Brahmins, 10 per cent traders, 20 per cent OBCs and 8 per cent Muslim voters.
Gugan Singh Ranga was a leader of Bharatiya Janata Party and a former member of the Delhi Legislative Assembly. Now he has joined Aam aadmi party on 30 July 2017 in presence of Delhi Chief Minister Arvind Kejriwal. 
Several voters in the constituency connect to Haryana. The Jat population also influences the results of north-west seat. Udit Raj, the sitting BJP MP, has crossed over to Congress. In the 2014 Lok Sabha elections, BJP-led Udit Raj became the MP from North West Delhi. Denied ticket this time, Raj said: "The Dalit community is angry with the BJP and not even a single Dalit will vote for the BJP."