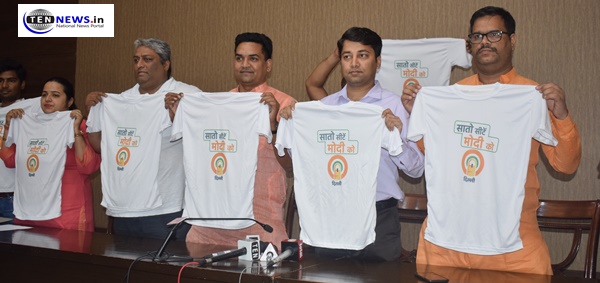 Kapil Mishra Launches "Saaton Seatein Modi Ko" campaign in Delhi for Lok Sabha Elections 2019
PRERIT CHAUHAN/ JITENDER PAL- TEN NEWS
New Delhi: (02/05/2019) AAP Rebel Leader Kapil Mishra and renowned expert Vikas Pandey of social media today announced the launch of the "Seven seats for Modi" campaign by holding a press conference. It is noteworthy that MLA Kapil Mishra and Vikas Pandey had started the "Mera PM Mera My Abhiman " campaign, which involved about 5 lakh people.
Kapil Mishra who is a MLA from Delhi's Karwal Nangar and Vikas Pandey is the moderator of world's largest political Facebook page, I Support NaMo. Now, in the last few days of the Lok Sabha election will run this campaign simultaneously across National Capital.
Addressing the Media, Kapil Mishra said,
"The campaign will be run by the volunteer associated with different parts of Delhi. Under this, Volunteers in Delhi Metro, Major Markets, Parks and colonies will get a message between the people of Delhi – 'Saaton Seatein Modi ko'.
He further said, " A missed call number has also been issued to join this campaign that is 80048004. Those who want to work for Modi for the next seven days can join this campaign by calling this number."
"Under this campaign, public events will be held in areas like Central Park Knott Place, India Gate, Ramlila Maidan, Delhi Metro, Karol Bagh, Rajouri Garden, Lakshmi Nagar in the next three days," added Mishra.