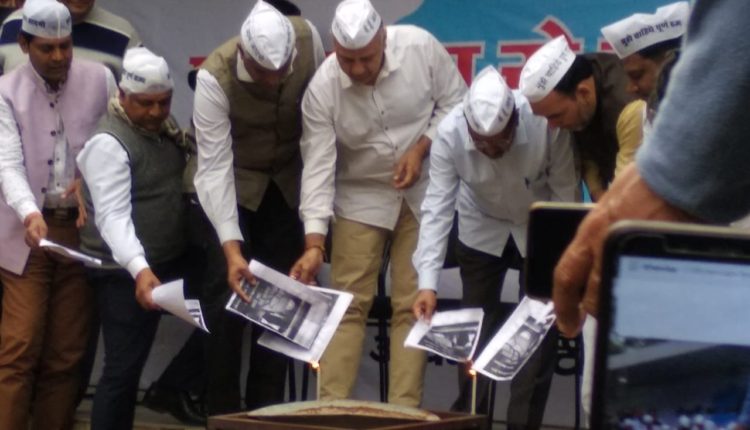 New Delhi: (13/03/2019) Again, the political tussle between Aam Aadmi party and the Bharatiya Janata Party over sharing of power in the national capital took a new turn on Wednesday.
In the morning, central minister Vijay Goel with party workers burned Aam Aadmi Party 2015 manifesto in order to express their anger against the promises made by Arvind Kejriwal.
While in the afternoon around 1 pm, Delhi CM Arvind Kejriwal with deputy CM Manish Sisodia and hundreds of party workers burned BJP 2014 manifesto, the Aam Aadmi Party move was to express the anger against BJP promise of "full statehood for Delhi" that was mentioned by saffron party in their 2014 manifesto.
Addressing party workers, the Delhi CM said, "Women in Delhi are feeling insecure, drugs are freely sold in Delhi, when people complaints about the problems to the chief minister, I can't do anything because we are not having that powers."
"The BJP government has cheated the citizens of Delhi in the name of full statehood, people of Delhi important for the BJP without trust that the saffron party will make the national capital a full state", the CM added.
The Delhi CM also slams the BJP government for creating distruptions in the works of Delhi government, Kejriwal also stated that our government wants to establish new colleges and universities for the people of Delhi, but we were not able to execute as our government not have that much of powers.
The Aam Aadmi Party is now going solo on all seven Lok Sabha seats without forming any alliance with any other political party in 2019 Lok Sabha elections with taking up the issue of "full statehood for Delhi".