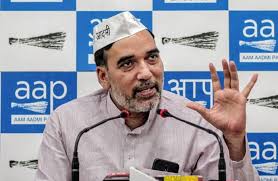 New Delhi, (18/6/2019): Aam Aadmi Party chief Arvind Kejriwal on June 3rd 2019 announced a scheme which is the talk of the hour till now. He announced that every women travelling in Delhi Metro, DTC buses and cluster buses will have to pay no money for their tickets. However, if any women wants to buy the ticket she can buy it.
After the announcement, ruling party BJP criticized the scheme and raise fingers against Arvind Kejriwal's credibility. Meanwhile Kejriwal and his ministers are standing firmly onto their promise and have been doing a public opinion about their scheme, whether people are with it or against!.
Today, addressing a press conference at the party office in Delhi, AAP convener, Gopal Rai while giving details of the report which was made after the public meetings done by AAP MLA's in their respective areas said, "after the announcement of this scheme it was opposed by the BJP and their MP's but the Aam Aadmi Party is proving them wrong with the support of the people of Delhi. We have conducted a research on whether Delhi people support this scheme or not".
"In this campaign 1120 meeting were conducted in every party of Delhi like JJ colonies, Flats, Bungalows, Unauthorized colonies, societies, everywhere meetings were conducted. The research was started on 8 June and now today after 10 days we have made a report, according to which " In these 1120 meetings, 71592 people took part and from these 71592 people 64972 supported this scheme which is 90.8%".
He further said, "the report will be presented to CM today evening and after that the party will decide about the further work of making this scheme a success".