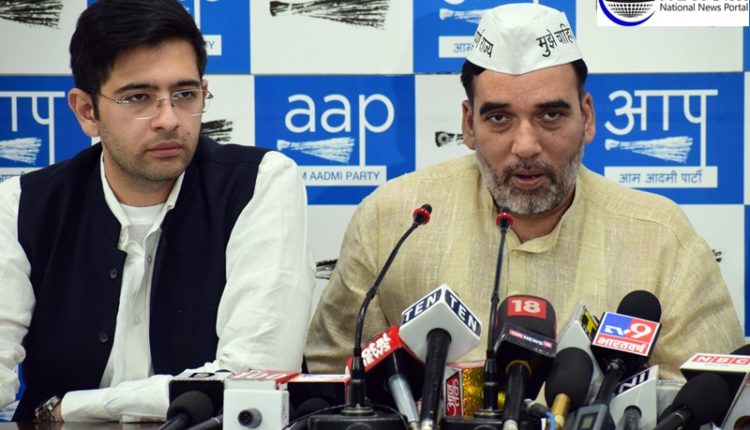 AAP targets BJP MP Ramesh Bidhuri, accuses him of not providing basic facilities in his adopted village
Talib Khan (Photo/Video) By Lokesh Goswami Ten News
New Delhi, (19/4/2019): Today, Aam Aadmi Party spokesperson Gopal Rai and Raghav Chadha held a press conference in their party office in which they produced the 5 year report card of BJP MP from South Delhi Lok Sabha seat.
Addressing the conference Gopal Rai said, "We want to show you the report card of BJP MP Ramesh Bidhuri or we can say BJP goon. Many complaints have been filed against him for misbehaving with women, even the female parliament members have filed complaints against him for his unruly behaviour with female colleagues".
"He never objected a question regarding the increased fares of Delhi metro which has affected lakhs of people of south Delhi, while campaigning back in 2014 BJP promised to make Delhi a full state but neither BJP nor its leaders elected in Delhi have raised their voices to make Delhi a full state".
Further Gopal Rai said, "Ramesh Bidhuri adopted a village under 'Sansad Adarsh Gram Yojana' in Delhi named Bhati to give them a facelift. The Bhati village does not have a school for studies after 5th class. When he adopted the village lacks the basic facilities like education institutions, toilets etc. Today the village is struggling to even have water and electricity. Except the Mohalla Clinic provided by AAP, no hospital or nursing home is provided by the MP".
Further AAP spokesperson and likely to be the candidate for South Delhi LS seat Raghav Chadha said, "like the attacks on people from different states in Maharashtra and Gujarat, instances were reported in South Delhi and all over Delhi of threatening the people and beating them, just to make them leave this place where they earn for their families living in villages".
"I want to tell him that Delhi is ours and no one can divide or question people of their birth place or religion. These BJP goons are threatening people of UP, Bihar, Uttarakhand and Kashmir to leave Delhi".
I want to ask BJP leaders that "Does these people really are deployed to ensure women safety and uplifting Delhi's image, who themselves cannot stand a person who questions them on their failure, who misbehaves with women?".