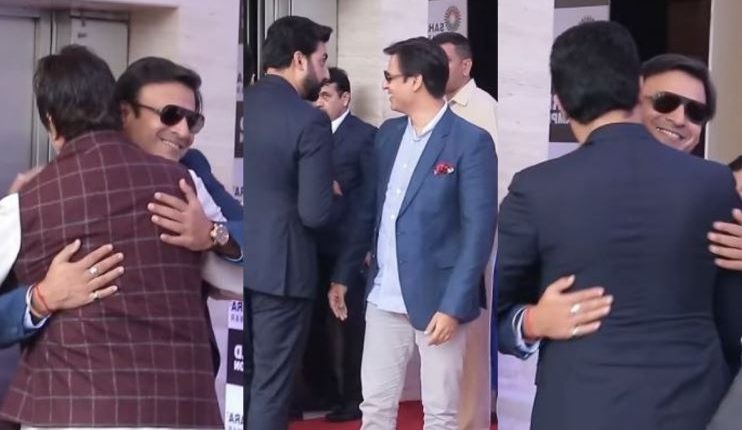 Abhishek Bachchan hugs Vivek Oberoi after months of meme controversy!
Actors Abhishek Bachchan and Vivek Oberoi hugged each other at the felicitation event of badminton star PV Sindhu in Mumbai. This came as a surprise as almost four months ago Vivek had shared a 'tasteless' meme about Bollywood actor and Abhishek's wife Aishwarya Rai Bachchan.
In the viral video of the event, Amitabh Bachchan and Abhishek shake hands with Suresh Oberoi, Yahidhara, Priyanka and Vivek alike. Abhishek greeted Vivek with a big smile and a hug. They exchange a few words before they give each other pats on their backs and Abhishek leaves to enter the venue with his father.
Vivek Oberoi was is the ex-boyfriend of Aishwarya Rai, they had dated each other in 2000s and worked together in a film 'Kyun Ho Gaya Na' in which Amitabh Bachchan also co-starred in a pivotal role.



The actor had to face the wrath of the nation including some co-actors from the film industry for sharing a meme about Aishwarya and her previous relationships. Actors Anupam Kher, Sonam Kapoor, Urmila Matongkar had stood against it and called the meme 'disgusting and classless.'
Even National Commission of Women took a note of the meme and termed the tweet as "misogynistic". "I would want to meet the Women's Commission… I have been working on women empowerment since the past 10 years, and I don't just talk about it on social media… I am very careful as far as respect for women is concerned. I personally feel that there's no disrespect (in what happened). I would meet the Women's Commission and if they explain to me what is wrong in it, I would apologise," Vivek had told the media.
Later after much interpretation, Vivek apologised for the tweet, "Sometimes what appears to be funny and harmless at first glance to one, may not be so to others. I have spent the last 10 years empowering more than 2000 underprivileged girls, I can't even think of being disrespectful to any woman ever," he wrote. And, the actor decided to delete the tweet. "Even if one woman is offended by my reply to the meme, it calls for remedial action. Apologies, tweet deleted," he tweeted.