Action Hero Akshay Kumar charms admirers at Auto Expo 2018
ROHIT SHARMA / ASHISH KEDIA
(11/02/18) GREATER NOIDA :–
Large number of people gathered at Auto Expo 2018 also got to witness the celebrity appearance of Akshay Kumar at Honda pavillion.
Akshay was greeted with loud cheer as soon as he appeared at the stage on Honda two wheelers pavillion.
Organizers of the pavillion were on heels to manage the crowd. Much large crowd than anticipated was gathered at the pavilion to catch a glimpse of their favourite star.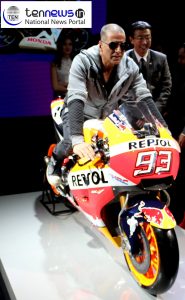 Akshay spoke of driving safely and promoted Honda products at the expo. He said, "It is very important for all two wheeler driver to stay safe while they enjoy the ride. All bike drivers should ensure that they are equipped with all necessary safety gears when they hop on a two wheeler to enjoy the roads'.
Akshay later also visited the Honda safety zone and witnessed the stunts being performed their. He also greeted his fans from the pavillion.