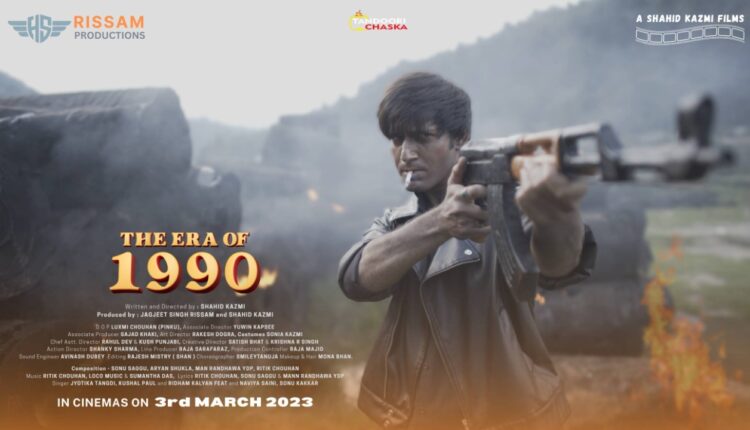 Actor Arjun Manhas of upcoming movie 'The Era of 1990' faces identity dilemma

Some actors are so completely consumed by their characters that they lose sight of who they are as people that they have been profoundly influenced. Arjun Manhas, the actor from "The Era of 1990," experienced a similar situation.
Arjun Manhas has a charming chocolate boy look in real life, but in his upcoming film, "The Era of 1990", his appearance is so different that people have been calling him to confirm whether or not he is the movie's central protagonist because of his tanned, rough and tough appearance. In response to this identity dilemma, Arjun Manhas states, "I firmly believe in indulging in the role to the fullest extent possible in accordance with the demands of the script, and I have experimented with my look in all of my tv and film ventures.
I make sure that my look matches the requirements of my character in the specific project. Since I dress and speak like the character, it makes me happy when my friends and the audience can't tell me apart. I consider it a compliment that the character I play in the movie isn't Arjun Manhas.
I had to play a rugged guy with a tanned look who plays the "king of piracy" scam in the film "The Era of 1990." I've also performed in some daredevil action scenes without a harness, which led to a number of injuries. I had never trained martial arts before, but I was required to perform several hard-core techniques in the movie, so I underwent rigorous training to perform them as my character required. I have high hopes that the viewers will adore it and appreciate seeing a new me in the movie.
The film is very special to me because it is based on a unique and real subject from the 1990s. The entire cast and crew put in equally hard work for the movie. Sara Khan, who portrays my love interest in the movie, gave an excellent performance. The film's shooting experience was wonderful.
The director, Shahid Kazmi, is extremely talented, and I had previously worked with him, which helped me grasp his framework so that I could go prepared for the 'Take'."
The  'The Era of 1990' is an out and out commercial film, but it is also very realistic, based on the very interesting subject of Bollywood Movie Piracy Scam in the 1990's worldwide.
The film is set to be released in theatres on March 3, 2023 and is produced by Jagjeet Singh and Shahid Kazmi under the banners of Shahid Kazmi Films and H.S Rissam Films.