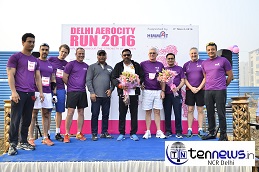 Aerocity celebrates The International Women's Day: organises run to promote Respect, Safety and Security for Women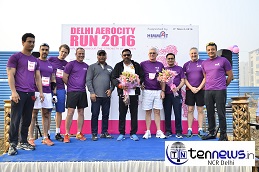 Aerocity celebrates The International Women's Day: organises run to promote Respect, Safety and Security for Women
New Delhi, March 08, 2016:  Bharti Realty Limited, the real estate arm of Bharti Group in collaboration with international hotel chains at Aerocity organised a 6 km "Delhi Aerocity Run 2016" on the 104th International Women's to promote Respect, Safety and Security for Women.
Organised under the banner "Consortium at Aerocity", which  comprising of prominent names present at the Aerocity like  Bharti Worldmark, JW Marriot, Ibis, Lemon Tree, Red Fox, Pullman, Novotel, D2, , HolidayInn, The Pride and Hyatt Andaz, the run was organised to celebrate the true spirit of international women's day: "the empowerment of women".
Money raised through Delhi Aerocity Run 2016 will be contributed to "Pardada Pardadi Educational Society", an NGO dedicated to the academic, economic and social empowerment and uplifment of girls and women in the country.
Speaking at the occasion, Mr. S K Sayal, Managing Director & CEO, Bharti Realty Limited said, "We organised this run to celebrate the achievements of today's women. We strongly endorse the important role of the women in our society and there cannot be a better way to celebrate the spirit of womanhood on International women's day."
Flagged off by Mr. D K Gupta –Deputy Commissioner of Police, Delhi, the run began from Hotel Novotel Pullman & Aloft Circle covering the entire stretch of Aerocity. The event was also graced by many eminent personalities, which include Mr. J.B. Singh, President & CEO of Inter Globe Hotels and Mr. S K Sayal, Managing Director & CEO, Bharti Realty Limited.
The run was followed by an enthusiastic Zumba session for the participant and the organisers by ViVa fit.
Post run, all the participants and organisers formed a human chain holding the placards displaying messages on women rights and equality to show their support for the cause.
About Bharti Land Limited
Bharti Realty Limited is a 100% subsidiary of Bharti Enterprises and is a leading name of Indian real estate industry.  Known for its quality standards and execution, the company is currently managing 4 million sq. ft. of commercial real estate development with another 8 million sq. ft. of commercial and residential development is underway. After having developed iconic buildings like 'Bharti Crescent' in New Delhi and Airtel Centre, the company has ventured into residential project in JV with Eros group by developing a vertically smart residential community project called "The Delhi Ridges". For more information on the company and its projects, please visit www.bhartiland.com