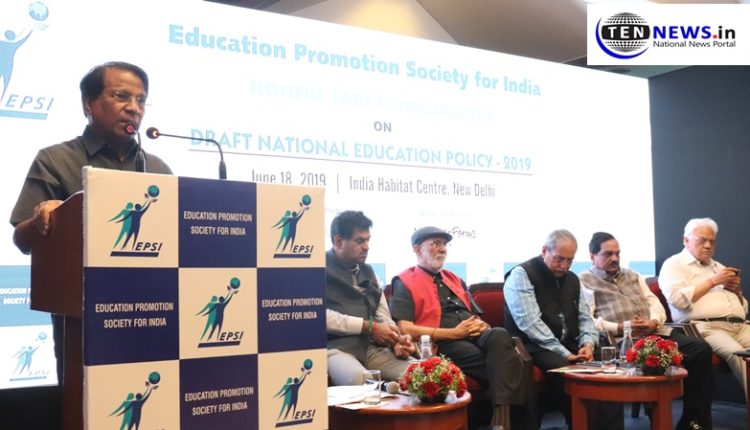 After 2030 there will be no grade accreditation : Dr G Viswanathan, President, EPSI and Chancellor , VIT
Saurabh Kumar

Greater Noida:  Education Promotion Society for India (EPSI), on Tuesday, held a roundtable discussion on "Draft National Education Policy 2019″, and also felicitated Members of Parliament, who are educational entrepreneurs and have done stupendous work in the area of education sector.
Dr T. R. Paarivendhar, MP, Perambalur, Tamil Nadu; Prof. Achyuta Samanta, MP, Kandhamal, Odisha; Dr S Jagathrakshakan, Arakkonam, Tamil Nadu; Krishna Devarayalu Lavu, MP, Constituency, Narasaraopet; A Ganeshamurthi, MP, Erode, Tamil Nadu were Felicitated by EPSI on the occasion.
Dr G Viswanathan, President, EPSI shared his thoughts on the Education Sector and also on the 'Draft National Education Policy 2019' and said there will be three kinds of Universities, First will be Research Universities, Second Teaching Universities and Third will be Degree Awarding to colleges. There is no mention of Deemed universities because if it becomes central, the government could bring the bill so it could bring central government, private universities.
He further said, "Regarding accreditation at present we have grade accreditation, the committee, the maximum discord is for ten years, so after 2030 there will be no grade accreditation Just yes or no. Another important suggestion is that in every program 20 per cent of the student will have 100 per cent scholarship which will get a huge approx 35 thousand core so who will be paying for it. The state government should be taken into consideration so that they also can discuss in assemblies and committees and come up with a solution."
"Overall it's a good report but at some place, it requires detail studies and regulation which can be done by us or implementing bodies and government can do it," added EPSI President.