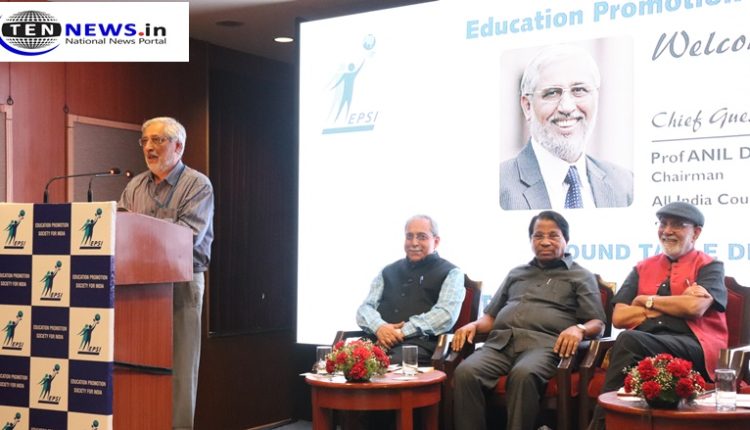 We have to think education in innovation or Innovation in education : Anil D Sahasrabudhe, Chairman AICTE, in EPSI Roundtable
Saurabh Kumar

Greater Noida :  Education Promotion Society for India (EPSI), on Tuesday, held a roundtable discussion on "Draft National Education Policy 2019″, and also Felicitated Members of Parliament, who are educational entrepreneurs and have done stupendous work in the area of Education sector.
Dr T. R. Paarivendhar, MP, Perambalur, Tamil Nadu; Prof. Achyuta Samanta, MP, Kandhamal, Odisha; Dr S Jagathrakshakan, Arakkonam, Tamil Nadu; Krishna Devarayalu Lavu, MP, Constituency, Narasaraopet; A Ganeshamurthi, MP, Erode, Tamil Nadu were felicitated by EPSI on the occasion.
Anil D Sahasrabudhe, Chairman AICTE,
shared his thoughts on the education sector and also on the 'Draft National Education Policy 2019' and said, In general, every education policy wants to be high grossing enrolment ratio that we have started with 0.7 percent and we reached at 28 percent and our goal to reach 30 per cent by 2020. But more important than this is the implementation of policy in its true sprit as it was written on paper. This is where we are always lacking and so, since 70 years of independence we don't have any college in top 100 institutions of the world.
Stressing the need of Innovation in education he said, "We all talk about innovation so first, we have to think education in innovation or Innovation in education and the second thing we don't need to discriminate between government school and private when it comes to primary education. The basic thing is that we all are here to build an excellent education system. One more thing when we talk of cross-disciplinary but when it comes a selection of such faculty in their college they declare such candidates unfit. I think a candidate who has an intradisciplinary degree is more fit then who has only one educational background."
He further said, "In present time controversy is happening over the implementation of languages I would like to say that make a child learn 10 languages at the age 3 to 8 he will learn 10 languages and it's even not required in a scripted manner but just start talking with him he will learn the language."
"AICTE is organizing Great India Hackathon which is a great initiative. we also have now online course so that institution which doesn't have faculty and is in remote are should not get deprived of education," added Sahasrabudhe.