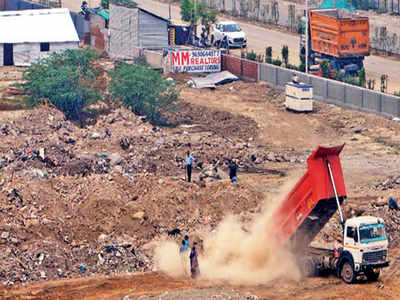 After Noida, Greater Noida to get its first construction waste recycling plant
Ten News
Greater Noida :  Soon Greater Noida will get its first construction waste recycling plant as Greater Noida Authority has started the construction in sector Ecotech-3. The plant will help a lot in curbing pollution in the city. Apart from this, the authority is also planning to setup a waste remediation site at Lakhanwali village.
4.5 acre of land has been allotted to a private firm where the plant is being setup. Rise Eleven Group has got the tender of construction and operation of the plant, which is expected to commence within a month. As per the officials, recycled waste will be used by the authority in concrete road construction, bituminous road construction, earthwork embankment, horticulture civil works and preparing a deep for some infrastructure work.
At the initial stage, the plant will process 100 tone Construction and debris waste per day, but later it will be increased to 300 tons per day. For the collection of waste from the city, 10 points have been identified out of which five are in Greater Noida East, four in the west and one at Knowledge Park. People have to dumb their debris at these points from where it will be collected for recycling. Waste like concrete, bricks, wood, asphalt, gypsum, reinforced steel, glass, ceramics, plastic, doors, windows, plumbing fixtures and other construction waste can be recycled.
For now, as there is no plant, the builders and contractors engaged in civil works are dumping their waste at a landfill site in village Astauli or at the outskirts of the city. Over the time span of two decades, more than 2 lakh tone waste has been accumulated and now the authority is also looking for an agency expert in bio-mining to deal with this huge heap of waste.