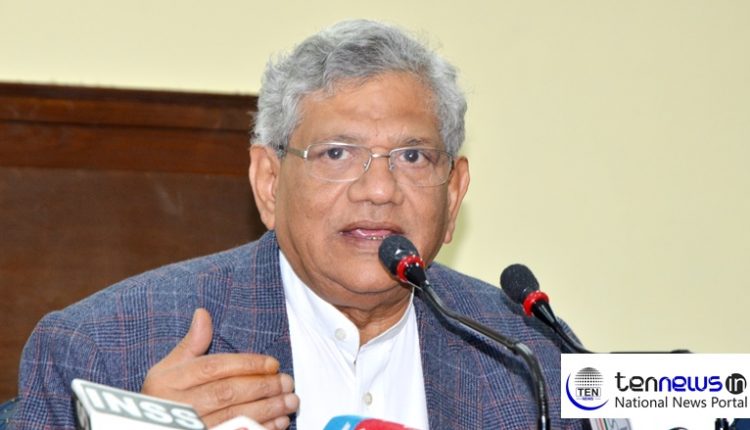 KASHIF HASNAN (PHOTO/VIDEO BY SAURABH)
New Delhi: Amending in Foreign Contribution Regulation Act (FCRA)-1976, the Bhartiya Janta Party (BJP) is legalising the foreign funding to the Political parties of India. It will not only increase corruption but also a serious threat to democracy, said CPI (M), General Secretary, Sitaram Yechury on Saturday in Delhi.

A new amendment in the Finance Bill 2018 – made public after the announcement of the budget on Thursday – now seeks to amend that 2016 amendment so that the BJP and Congress are off the hook for any donation received after August 5, 1976 – the date of the commencement of the original Foreign Contribution (Regulation) Act of 1976.
The 1976 Act was repealed and later re-enacted as a separate piece of legislation in 2010 with minor changes.
Yechury said that if this amendment took place, it will open the gate for shell companies, money laundering, political corruption and so on. "On February 2, 2018, we have filed a petition in the Supreme Court challenging of the introduction of Election Bounds by the Finance Act 2017. Though, the Apex Court has sought a response from union Government and Election Commission of India (ECI)." Yechury said.
"BJP and Congress has tied up hands on this," Yechury added.
New amendments proposed by the Government –
The net effect of the above provision is that any natural or legal person, including a company owned by a foreign corporation can finance a political party in India to an unlimited extent without either the name of the donor entity or the donee political party being disclosed to any anyone in public domain.
Journey so far —
In 2016, the government for the first time used the finance Bill to bring amendments to the FCRA, 2010 to change the definition of what constitutes a foreign company in such a way that key beneficiaries of UK-based Vedanta group — the BJP and Congress — would not face legal scrutiny for donations received from 2010 onward. However, both the political parties were allegedly receiving foreign funds for political activities from Vedanta from 2004 to 2012.
He further said that the FCRA of 1976 defined a foreign company as one with over 50 per cent foreign ownership, thereby disallowing the companies owned by foreign nationals or Indian-origin people based abroad and with foreign citizenship to fund and influence political parties in India.
The tricky point
As a Finance Bill is a money Bill, it will not be difficult for the ruling BJP to get it passed in Parliament. Once passed by the Lok Sabha, a money Bill is sent to the Rajya Sabha for its recommendations along with the Speaker's certificate that it is a money Bill. The Rajya Sabha can neither reject nor amend the Bill, and must return it within 14 days, after which the Lok Sabha may choose to accept or reject all or any of its recommendations. In either case, the Bill is deemed to have been passed by both Houses.