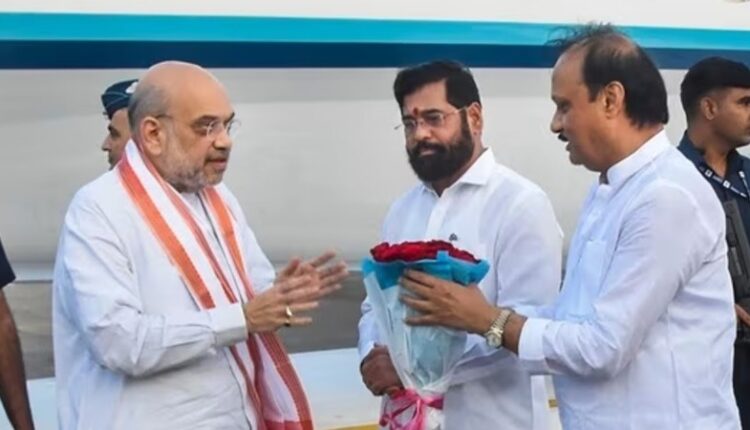 Amit Shah Lauds Ajit Pawar Joining of Eknath Shinde-Devendra Fadnavis Government, Calls it 'Right Place'
TEN NEWS NETWORK

New Delhi, August 6, 2023: Union Home Minister Amit Shah applauded Ajit Pawar, the Deputy Chief Minister of Maharashtra, for his decision to join the Eknath Shinde-Devendra Fadnavis government after leading a vertical split in the Nationalist Congress Party (NCP).
Speaking at the unveiling of the digital portal of the Central Registrar of Cooperative Societies in Pune, Shah shared the stage with Ajit Pawar and expressed his satisfaction at seeing him in the new role.
"Ajit Dada (Pawar) has come for the first time after becoming the Deputy CM and I am sharing the stage with him, I want to tell him that after a long time, you are sitting at the right place. This was the right place but you took too long to come," Shah stated, according to ANI.
Ajit Pawar, the nephew of NCP chief Sharad Pawar, orchestrated a vertical split within his party and aligned with the ruling Shiv Sena (Shinde)-BJP government on July 2. He assumed the position of Deputy Chief Minister, along with eight other MLAs who were sworn in as ministers.
This move came shortly after Sharad Pawar appointed Praful Patel and Supriya Sule as the working presidents of the NCP, fueling speculation about Ajit's potential collaboration with the BJP coalition. His defection to the ruling camp marks a significant political shift.
In November 2019, Ajit had staged a midnight coup after taking oath as the Deputy to Devendra Fadnavis. However, he later returned to the NCP fold under the leadership of Sharad Pawar. The government eventually collapsed after both Fadnavis and Ajit Pawar resigned within three days.
Following subsequent political developments, the Shiv Sena (undivided)-Congress-NCP coalition came to power, and Ajit was once again sworn in as Deputy CM. With Ajit's inclusion in the government and his new role, the dynamics of Maharashtra politics have witnessed further changes under the Maha Vikas Aghadi government led by Uddhav Thackeray.