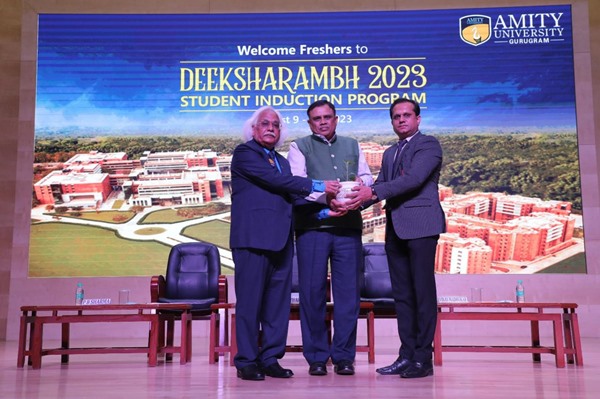 Amity University Haryana organizes 'Deeksharambh'- Student Induction Programme at its Manesar campus
Ten News Network

Manesar, Gurugram: Amity University Haryana is conducting its Student Induction Programme (9th– 12th August 2023) for the new batch of students August 2023 in the presence of faculty members, esteemed dignitaries and stalwarts from academia and industry. In tandem with University Grant Commission's (UGC) guidelines for Indian Universities/ Colleges, 'Deeksharamabh' endeavoured to enjoin students with the aspects of SAGE (Socializing, Associating, Governing and Experiencing). Thus, students become comfortable in a new environment, inculcate the ethos and culture of the institution and build bonds with other students and faculty members.
The Orientation programme has commenced with the blessings of  Hon'ble Founder President Dr. Ashok Chauhan; Chancellor, Dr. Aseem Chauhan; Hon'ble Vice Chancellor, Prof. P.B. Sharma;  Pro Vice Chancellor, Prof. (Dr.) Vikas Madhukar; Director, Registrar, Dr. Ravi Manuja; Dean, Faculty of Science Engineering and Technology and Director, AIB Dr. Rajendra Prasad; Director, ASCO, Prof. (Dr.) Sumit Narula and Dean, Faculty of Arts, Prof. (Dr.) U.N Singh. The Havan and Lamp Lighting ceremonies were enjoined by the new students, parents and other esteemed faculty at AUH for an auspicious beginning of students' journey at AUH.
Vice Chancellor, Prof (Dr.) P.B Sharma and Pro Vice Chancellor Prof. (Dr.) Vikas Madhukar have  been passionately steering Amity University Haryana (AUH) into new horizons, attracting plethora of opportunities for its students. Under their aegis, in a span of 13 years, AUH has attracted much renown and prominence for achieving Global Eminence in research and nation building. AUH is India's first university and Asia's second to have achieved the title of 'Platinum Rated' Green campus. With a NIRF ranking of 94 among top 100 Indian universities and a ranking of 32 globally for SDG 7 by Times Higher Education Impact Rankings 2022, AUH is leading global standards, acting as a marker for best academic excellence and research infrastructure. Continuously in the league of best taught academic courses in India, NIRF Rankings 2023 ranked Amity Law School (rank 23), Amity Business School (rank 81) and Amity School of Engineering and Technology (rank 99). Some key takeaways from Prof. Madhukar' address were key motivators for students' bright and successful future- "Dream big, take risks and always have a thirst for knowledge. I believe one should adopt a 'SMART' strategy for achieving goals- a Specific, Measurable, Achievable, Realistic and Time-Bound approach to dividing long term goals into short term plans must be your success mantra."
Honb'le Vice Chancellor, Prof. P.B. Sharma continues to be a strong supporter of  sustainability, environmental preservation and blending modernity with age-old Vedic Samskaras and values. Under his astute guidance and meticulous forthrightness, Amity University Haryana was selected by the G20 India Presidency Secretariat as part of the G20 'University Connect Program', including 75 universities out of a whopping 1000+ universities in India. With 99 prestigious research projects and 228 patents filed last year, AUH is making an impressive contribution to nation building. Vice Chancellor Prof Sharma in high inspiring address invited freshers to shape them as professionals of the New Age and develop themselves as the empowered and responsible citizens of a great nation like India which has pledged itself to a world leader in sustainable and inclusive development. He invited them to submit to the calls of self-discipline and practice the holy trinity of Simplicity, Integrity and Sustainability.
Dr. Ravi Manuja, Registrar, AUH presented the 'Vote of Thanks' to the esteemed gathering for joining and partaking from the enriching knowledge and wisdom of the respected faculty members and HOI's/HOD's. Dr. Manuja shared a thought-provoking mantra for life-long success and commitment to one's goals, precious lines from the immortal wisdom of Robert Frost- "The woods are lovely, dark and deep but I have promises to keep and miles to go before I sleep."
The 4-day Orientation cum Student Induction Programme organized at the University's Manesar campus witnessed a special and ultra relevant Panel Discussion on 'Campus to Corporate: Key to Success in College and Beyond', envisioned with a focus to guide and inform the students on factors determining educational as well as professional success. In conversation with Ashish Kulkarni (Partner, Centre for Sustainable Earth, Climate and Sustainability, Boston Consulting Group); Priyanka Gulati (Partner, Grant Thornton); Col. Inderjeet Singh (Chief Cyber Officer, Vara Technologies); Sharad Gupta (Vice President & Head, Corporate Communications & Brand Strategy, Escorts Kubota Ltd) and Hitesh Kumar (CFO, Business Partner, Business and Commercial Leader, Fluence India.)
Prof. (Dr.) Sumit Narula, Director, Amity School of Communication, AUH, spearheaded this engaging and highly informative Question-Answer round with the expert panel, unravelling strategies to improve adaptability with the ever-evolving career and work environment and the important role of personal and professional networking for students and strategies for striking effective work-life balance. "We carve our paths from Day 1 of our student life until we graduate and we must stay abreast with latest technologies and trending skill set for emerging as industry trailblazers," stressed Col. Inderjeet Singh. Priyanka Gulati, agreeing with Col. Inderjeet Singh encouraged the students to develop and nurture all four Life Quadrants- 'Ourselves', 'Family', 'Work' as well as 'Community.
The rich and exuberant cohort of dynamic, sagacious and highly experienced dignitaries from different walks of life have gathered at AUH- Swami Mukundananda, global spiritual leader and an IIT, IIM alumnus; Subhash Jagota, CEO, Global Business Solutions, Prof. (Dr.) Randeep Guleria, erstwhile Director, A.I.I.M.S, New Delhi; Dr T.G. Sitharam, Hon'ble Chairman, All India Council for Technical Education (AICTE). Their path-breaking wisdom, achievements and enterprise has marked a fresh and spirited beginning, launching the careers of students commencing their Professional journeys from Amity University Haryana.
Dr. Guleria, a Padma Shri awardee and pioneer in the filed of medical sciences, an Indian pulmonologist and the Ex-Director of the All India Institute of Medical Sciences, New Delhi established the first centre for Pulmonary Sciences and Sleep Disorders at AIIMS. In his inspiring address to the freshers  Dr. Guleria expounded on the vital enquiry of how Science and Technology is reshaping our lives, discussing the plethora of advancements the world is witnessing today from robotic surgery, 3D printing  to Big Data Analytics.
The distinguished and inspiring address by Dr T.G. Sitharam, Hon'ble Chairman, AICTE, shared  the unwavering commitment of AICTE initiatives like  AI-driven technologies, ethical AI with a global impact. " We want to ensure that our AI solutions are not only groundbreaking but also aligned with the values and needs of our society," said  Dr. Sitharam. The Chairman AICTE also informed the freshers of the major initiatives that AICTE has in store to revitalise the core engineering disciplines. He invited students to be passionate about their studies and nurture industry relevant skills. The AICTE has a highly impactful program to support its institutions to foster creativity, innovations and startups, said Dr Sitharam.
Founder President of Amity Education group Dr Ashok K Chauhan also blessed the students and invited them to utilis their stay at Amity University to shape them as outstanding professionals and great human beings.
Amity University Haryana also welcomed Dr. Dipan Sahu, Assistant Innovation Director, Ministry of Education's  Innovation Cell and AICTE, Government of India. Dr. Sahu has been instrumental in building the innovation movement in Higher Education Institutions in India, immensely contributing to the upliftment of  India's position in Global Innovation Index (GII) from 81st in 2015 to 40th in 2022. Speaking about 'Amrit Kaal,' PMs vision 2024 for "New India," with the National Education Policy 2020 as a path breaking step in that direction. Introduced in 2020, it outlines a comprehensive framework to transform the country's education system and designed to cater to the evolving needs of students, providing a holistic and multidisciplinary education that equips learners with essential skills and knowledge. From August 2023 batches, Amity University Haryana is implementing a new teaching-learning approach, guided by the National Education Policy, 2020 that will allow students to exercise flexibility in selecting their courses, thus, promising a self-driven, meaningful and a multidisciplinary learning experience.
During the four day Orientation program, the freshers presentations were also made to apprise the students about the academic regulations, course curriculum and also about the campus life. Specialised sessions have also been organised at institution levels to familiarise the students with the facilities and expert guidance provided in different disciplines.
Amity University Gurugram is a research and innovation driven University having 6000 students and 400  well qualified faculty and  senior officers. AThe university has hostel facility for 1800 students and approximately 200 faculty and 150 staff members are provided furnished accommodation in the lush green campus that provides a unique opportunity to live and learn in harmony with nature.