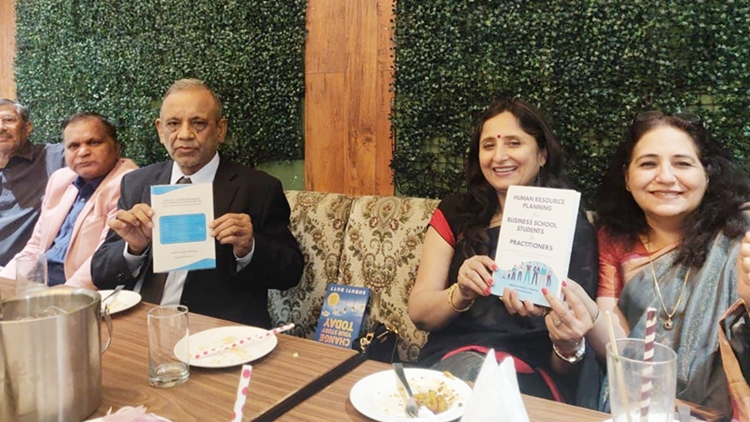 An evening of brainstorming, book launch & scrumptious delicacies
Ten News Network

By Bipin Sharma
New Delhi (01/06/2023): It was a proud moment for Educationist and formal Naval Commander Dr Dinesh Khurana as his two books were recently launched at a gala event hosted by Ten News Network in the city's happening Holiday Club in Panchsheel Enclave on 29th May' 2023.
The two books authored by Dr Khurana are titled "Human Resource Planning for Business School Students & Practitioners" and "Concept of Time Difference Worldover for all age groups".
The Ten News Family Get together event hosted every year has been a much awaited Annual Dinner Meet of prominent members of Ten News Network, most of them being distinguished Stalwarts of their respective fields.
Those who graced the event included the likes of Gajanan Mali (Founder, Ten News Network), Bipin Sharma (National TV Geo-Political Commentator & Analyst), Prasad Mali (CEO, Ten News Network), Rajiv Kakria, Coach Shruti Dutt, Rachna Tiwary, Anil Sood & Chetan Sharma.
The legal fraternity was represented by luminaries namely Dr Ajay Kummar Pandey, Asutosh Sharma, Dr Vinod Bidhuri & DK Yati.
The highlight of the evening was the "Ten News Media Chaupal" that witnessed an engrossing interaction wherein the participants pledged their support towards the core issues concerning the city, and the nation as a whole. The proposal to undertake a Plantation Drive on the forthcoming "World Environment Day" on June 5 evoked an overwhelming response from one and all present.
Indubitably, the legal luminaries left an everlasting impression with their awe- inspiring introduction and invaluable suggestions for the society as well as for Nation Building.
In an exclusive chat with Ten News Network, Dr Dinesh Khurana shared, "I have been a Professor in the areas of HRM and Operations Management (a rare combination) in International Management Institute, New Delhi. I have over 45 years of work experience in Teaching, Research, Academic Administration, Consulting, Conduct of Management Development Programs and Training across Govt, Public, and Private sector organizations.
I was commissioned into the Indian Navy in the year 1974 and took pre mature retirement as a Commander in the Logistic Branch in the year 1995.
My interest is in the fields of Workforce Planning, HR Analytics and Business Research.
I have so far authored two book chapters and 20 research papers in International/ National journals and proceedings.
I have been an invited Speaker in numerous National and International Conferences to deliver key note addresses, invited talks etc."
In his congratulatory message to Dr Khurana, Educationist Dr DK Batra said, "Authors make and shape the course of nations, multinationals and institutions. Kudos to Dr Dinesh Khurana on this painstaking effort that I feel will help streamline the flow of human resource of any firm, sector, nation and multinational companies."
The animated discussion at the Holiday Club that was followed by a sumptuous dinner made the event truly memorable.