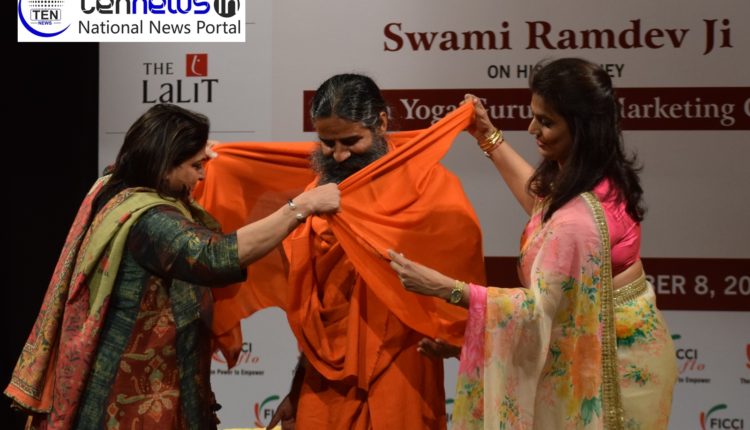 An interactive session with Baba Ramdev organised by FICCI Ladies Organisation
Vishal Malhotra (Photo & Video) By Rahul Kumar Jha
New Delhi: Today, FICCI Ladies Organisation (FLO) organised an interactive session with Swami Baba Ramdev on his journey from "Yoga Guru to Marketing Guru".
Ramdev was in conversation with Barkha Dutt, an Emmy-nominated reporter, author and columnist.
Ramdev is best known for popularising yoga among Indians through his mass yoga camps and daily television programmes, which airs to millions of people around the globe.
Ramdev is the founder and head of the Patanjali Yoga Peeth in Haridwar and teaches around 200,00 people per month in its yoga campus.
Today at the occasion, Ramdev was asked by FLO President, Pinky Reddy that,
"You are a billionaire Baba Ji, What do you do with such an amount of money? You are a Yogi."
Ramdev while replying her question, said
"If a normal person earns a lot, he is not judged in the basis of his work. But if a Yogi earns a lot more than him, it's considered as a question."
Ramdev introduced Patanjali's new dairy products and other snacks by providing them at the occasion free of cost.
At the occasion, Pinky Reddy said, "FLO is the most apt platform to connect, learn and grow. We recognise the success stories of true achievers and provide a platform for the members to be inspired by them. Ab entrepreneur extraordinaire, Swami Ramdev brought Yoga to people's drawing rooms and made it easy and approachable. He is now taking on the biggies of the FMCG world with his Patanjali products."
The programme was an excellent opportunity to be motivated by the inspiring success story of Swami Baba Ramdev and learn about his journey to success.