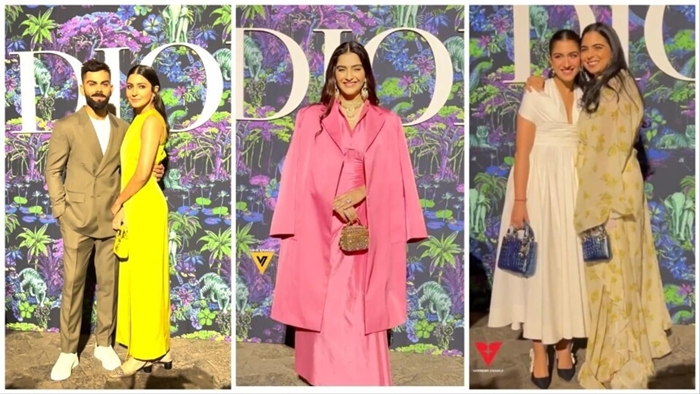 Mumbai (31/03/2023): A plethora of stars, celebrities, influencers were seen gathering at the Gateway of India in Mumbai, for the Christian Dior Fall 2023 fashion show. Sonam Kapoor, Ananya Panday, Shweta Bachchan, Anushka Sharma-Virat Kohli, and even the Ambanis were present at the location.

Anushka was seen on Thursday night wearing a yellow dress and toting the Lady Dior mini bag. Virat, wearing a khaki suit, a white shirt, accompanied his wife on the carpet. Sonam Kapoor maintained her impeccable style in a pink dress and pink jacket. She also had a Dior purse with her. With her stylish pink co-ord set and sleek hairdo, Ananya Panday also also dazzled the crowd at the show.
Isha Ambani was spotted with her future sister-in-law Radhika Merchant wearing a floral outfit. They both carried Lady Diana purses in the same shade of blue. Maisie Williams, the Game of Thrones star was also present at the Dior show in Mumbai.
The French fashion company showcased the diversity of Indian textiles against the iconic Gateway of India, and the exhibition itself served as the first formal calendar display by a major European luxury brand in India.