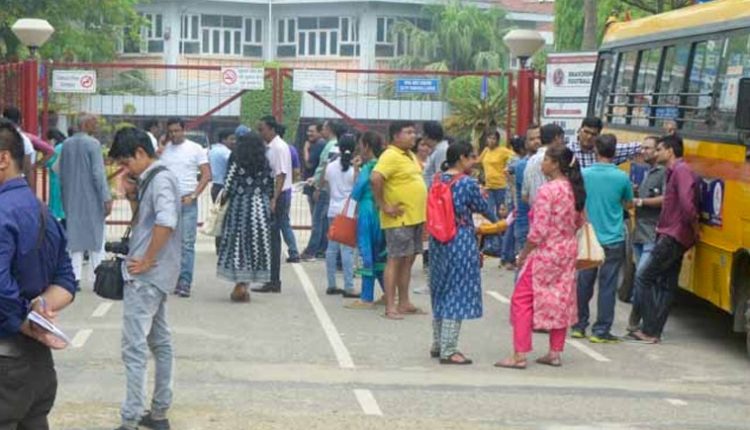 Apeejay School agreed to roll back fees after DFRC threatened with derecognition
Saurabh Kumar
Greater Noida : On Tuesday Apeejay School-Noida paid a hefty fine of Rupees 5 lakh, which was imposed by the District Fees Regulation Authority for taking action on the earlier order given by DFRC against the fee hike done by the school in mid of the session 2018-19.

After the strict action taken by DFRC and threatened with derecognition proceedings by the district administration if the school fails to roll back the hiked fees, School administration agreed to return the hiked fees to all the 4 thousand school parents in their respective bank accounts. For doing so the school has also started seeking details of bank accounts from parents and within a couple of days, school will complete this exercise.
The DFRC took action in the issue after the autonomous body received a complaint from the All Noida School Parents' Association (ANSPA) for hiking the quarterly fees nearly Rs 5,000 "in violation of the UP Self-Financed Independent Schools (Fee Regulation) Act". There after DFRC had fined the school with one lakh rupees and asked to roll back the hiked fees but school overlooked the order moved the appellate authority, which is the UP state regulatory authority.
Apart from this, It is expected that Cambridge School, against which a fine of Rs 1 lakh was imposed, would also comply with the order. It has one more day to stick to the compliance,"
Ruchika Sharma principal Pragyan School, Greater Noida reacting over the whole issue said "As a school, it's our moral responsibility to follow the guidelines issued by the government and district administration. We are not in a corporate field where the prime purpose is to generate money. I think it's very unfortunate that situation like this came where parents were protesting in front of schools, the administration is imposing fine on schools."