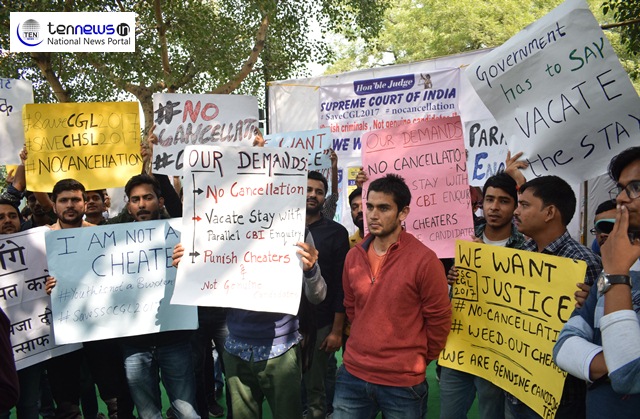 New Delhi: Staff Selection Commission, SSC is likely to cancel the SSC CGL Tier II Examination 2017. As per the latest update available Supreme Court has shared its willingness to cancel the examination on the leaked exam question papers of SSC CGL & SSC CHSL exams held in 2017.
Though the Supreme Court hasn't passed any definite order in this regard yet and has only sought the Central Government's take on this matter, after which a decision can be taken.
It is being alleged that amid all the controversies surrounding Staff Selection Committee and their mismanagement in conducting fair exams, thousands of honest and hard-working students are to suffer.
Following this on Sunday nearly more than 100 students gathered at Jantar Mantar, New Delhi to peacefully protest against the Supreme Court decision.
Speaking to Ten News SSC Students said,
"Most of us started our journey of CGL-l7 and CHSL-17 more than 2-3 years ago and toiled hard to clear Tier 1 and Tier 2 of the said examination and Tier 3 exam of CGL was conducted , on 8th July 2018 and Tier 2 of CHSL was conducted on 15th July 2018. The timeline of whole exam is also enclosed. We were hoping that our haggling days would soon be over and we'll get our desired post and a chance to serve the Government of India."
They further said, "For many candidates this was their last attempt. And is cancellation a guarantee that such malpractices won't happen in the future? And the most threatening thing would be that the cheaters and miscreants would go scot-free. There is huge probability that they will retort to such activities again."