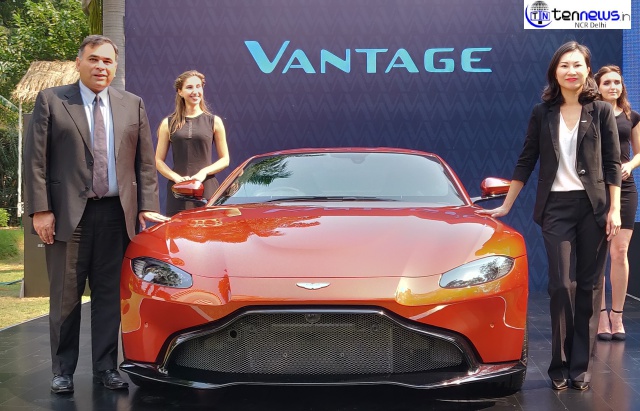 Aston Martin launches 'New Vantage' in India at a price of Rs 2.86 crore
Prerit Chauhan (Photo & Video) By Rahul Kumar Jha
New Delhi: Luxury sports carmaker, Aston Martin on Friday launched the new Vantage in India at a price of Rs 2.86 crore.  Ironically, at close to Rs 3 crore, the 2019 Vantage is the cheapest Aston Martin in India.
First used in 1951 on a high-output engine option for the DB2, Vantage was quickly established as a model in its own right. Highlights include the William Towns-designed V8 vantage, spectacular twin-supercharged V600 Le Mans and the much-Ioved V8 Vantage.
Nancy Chen, Head of Sales Operations for Aston Martin, South and Southeast Asia, during the launch, said,
"The new Vantage is the second of the seven new models in seven years under our Second Century Plan. It Second Century Plan) is a bold plan, and it is working. We have made a strong start with the DB11, taking Aston Martin back into profit. The new Vantage will build on this success, and take the company to greater heights."
"Vantage is a car that's never less connected and engaging with the breadth of capability to revel in challenging roads and bare its teeth on the track this is the essence of the Vantage driving experience. A true sports car with a sharper look and a keener dynamic edge, the new Vantage is the Aston Martin pure driving machine that the enthusiasts have been waiting for," Added Chen.